One of the best parts of capitalism is that it can prepare us for anything. This is true for economies around the world, too. As globalization increases, it is easy to see the top examples of capitalism.
Often, these countries are the most open to trade. They benefit from increased international trade, finance, and technology. We will look at the largest economies in the world and then take a look at the top 10 examples of capitalism around the world.
World's Largest Economies
Before we look at examples of the top capitalist countries, let's take a look at the largest economies in the world. Capitalism can be a very successful economic model. Most of the countries on this list use some form of a capitalist economy. However, there are a couple that do not.
GDP

(in USD trillions)

Economic Freedom Score
Economic Freedom Rank
USA
21.410
76.8 (mostly free)
12th
China
15.543
58.4 (mostly unfree)
100th
Japan
5.362
72.1 (mostly free)
30th
Germany
4.416
73.5 (mostly free)
24th
India
3.155
55.2 (mostly unfree)
129th
France
3.060
63.8 (moderately free)
71st
UK
3.022
78.9 (mostly free)
7th
Italy
2.261
62.2 (moderately free)
80th
Brazil
2.256
51.9 (mostly unfree)
150th
Canada
1.908
77.7 (mostly free)
8th
Top 10 Capitalist Countries/States
Capitalism is designed to operate in a free market. While many countries' economies are based on a capitalist model, each one allows varying amounts of freedom in their markets.
Economies are complex. There are different ways to look at them and rank them. If we want to look at the top examples of capitalism, judging countries by the freedom of their market is a good way to do so.
Each year, The Heritage Foundation releases an Index of Economic Freedom. They collect data to measure and rank the economic freedom of every country in the world. This data is a great starting point to look at the top examples of capitalism.
1. Hong Kong
Hong Kong is one of the most interesting countries in the world. Technically, it is a Special Administrative Region of China. However, its economy runs separately (though definitely benefits from) China's.
Brief on Hong Kong's Economy
If the world picked a global equivalent of Wall Street, it would probably be Hong Kong. The country is a hub for global trade and investment. This is because its economy is very open.
There are no tariffs on goods imported into Hong Kong. China is its largest trading partner. Because China's economy is more restrictive, many people and businesses go to Hong Kong to trade and invest.
Features:
Population: 7.4 million
GDP: $387.983 billion
World Rank: 35th
GDP Growth: 3.8%
Big Industries: International trade and finance
Leading Companies: China Aoyuan Property Group (construction), China Gas Holdings (utilities), Geely Automobile Holdings (auto)
What Aspects Make It Great?
Hong Kong has one of the most competitive economies in the world. This is thanks to its open policies. As such, it is consistently ranked among the top economic performers in the world. Hong Kong benefits from being open to international businesses from both the West and Asia. The Hong Kong Stock Exchange is one of the largest in the world.
2. Singapore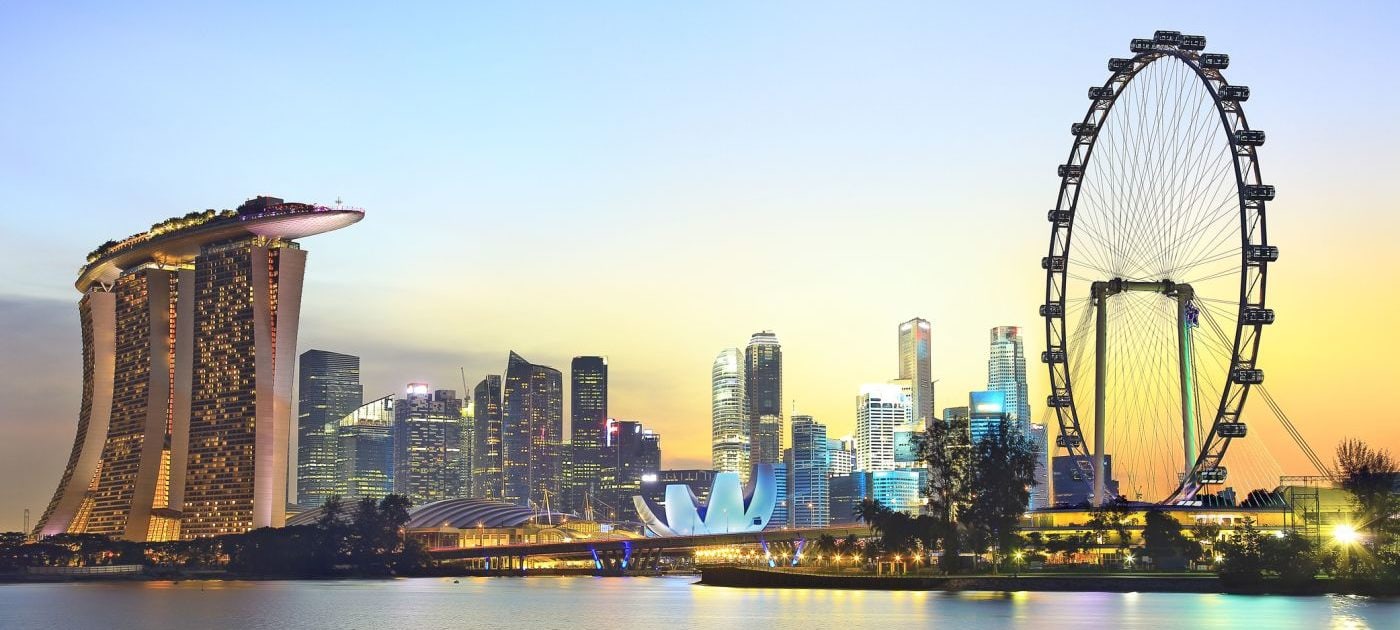 Singapore is a small country with big economic power. Geographically, it is so small that it is a city-state. However, it is established as another main economic hub in Asia.
Brief on Singapore's Economy
Singapore's economy is very developed. It has a very open economy that values transparency. The economy is praised for having little to no corruption.
The country is a large exporter of electronics, chemicals, and medical devices, among other things. Its stock exchange is also a major trading hub for companies operating in Asia.
Features:
Population: 5.6 million
GDP: $367.783 billion
World Rank: 38th
GDP Growth: 3.6%
Big Industries: Exports, finance, technology
Leading Companies: DBS Group (finance), Singapore Telecommunications (communications), Oversea-Chinese Banking Corporation (finance)
What Aspects Make It Great?
Singapore had an amazing period of economic development to get to where it is today. It became a manufacturing and financial center because of its open economic policies. Singapore is a great example of capitalism. It has low taxes and freedom for businesses to operate and trade internationally.
3. New Zealand
New Zealand is another former British colony, like Hong Kong.
Brief on New Zealand's Economy
Exports and imports make up a little over half of the country's GDP. Tariffs on these goods are low. New Zealand's economy is very open to trade and investment.
The country's economy thrives off of agricultural exports, especially to countries like China, Australia, and the U.S. New Zealand is a large producer of dairy products, like milk, cheese, and butter. They also export meat and produce.
Features:
Population: 4.8 million
GDP: $235.328 billion
World Rank: 50th
GDP Growth: 3.0%
Big Industries: Agriculture, manufacturing
Leading Companies: 

Fletcher Building (construction), Woolworths NZ (retail), Air New Zealand (aviation)
What Aspects Make It Great?
New Zealand has made great progress to open its economy. Because of this, it has made its economy more competitive and opened itself to trade. Exports contribute to 30 percent of GDP.
Capitalism has enabled New Zealand to develop advanced farming techniques. Without such a free and competitive market, the country would not be able to have as much success off of exporting commodities.
4. Switzerland
Switzerland makes its money from money. The country's financial services sector is the largest part of the economy. Part of this is due to the economy's openness and low corporate tax rates.
Brief on Switzerland's Economy
Switzerland also has a vibrant manufacturing sector. It specializes in precision manufacturing that requires highly skilled labor. This includes the production of products that require higher technology.
Features:
Population: $8.4 million
GDP: $779.327 billion
World Rank: 19th
GDP Growth: 1.1%
Big Industries: Financial services, manufacturing, metals
Leading Companies: Nestle (food), Roche (biotech), Novartis (healthcare, pharma)
What Aspects Make It Great?
Switzerland is a fantastic example of how capitalism inspires innovation. Switzerland is consistently one of the most innovative countries in the world. This is even more incredible considering how relatively small the country is, both geographically and in population. Switzerland's economy values entrepreneurship and innovation. If you want to be an entrepreneur, this is one of the best places in the world to do so.
5. Australia
Australia also exports natural resources, including energy, and food products. Some of these natural resources include coal, iron, copper, and natural gas. The country is also a leader in renewable energy.
Brief on Australia's Economy
Economically, Australia is a great bridge between the West and Asia. The country has free trade agreements with China, South Korea, Japan, Malaysia, Singapore, and Thailand. Part of its economic success is because its economy is open to imports.
Features:
Population: 24.8 million
GDP: $1,581.890 billion
World Rank: 14th
GDP Growth: 2.3%
Big Industries: 

Service, tourism, healthcare

Leading Companies: BHP Group (metals and mining), Commonwealth Bank of Australia (finance), Rio Tinto (mining)
What Aspects Make It Great?
Australia is one of the most consistently growing economies in the world. In recent years, Australia has benefited from open trade policies. It has developed many trade partnerships with fast-growing economies in Asia. Because of its proximity to East Asian countries, Australia has become a great trade partner between Eastern and Western countries.
6. Ireland
Ireland is an island in the North Atlantic, which is separated from Great Britain to its east by the North Channel, the Irish Sea, and St George's Channel.
Brief on Ireland's Economy
Ireland has adapted to become very friendly to the global economy. Many multinational companies have established operations in the country. This is because of the low tax rate on corporations.
Features:
Population: 4.7 million
GDP: $409.225 billion
World Rank: 32rd
GDP Growth: 7.8%
Big Industries: Trade, exports
Leading Companies: CRH (building materials), DCC (distribution), Smurfit Kappa (packaging)
What Aspects Make It Great?
Ireland has made itself a friendly place for multinational corporations to do business. Corporate-friendly policies have allowed the small country to become a hub for international business. Apple and Microsoft have established large office headquarters in Ireland. The capitalist policies have allowed Ireland to compete in the global economy.
7. United Kingdom
The UK is one of the most involved international economies. It remains a large world financial hub. The London Stock Exchange is one of the ten biggest in the world.
Brief on UK's Economy
The UK's role in the international economy can be traced to the Industrial Revolution in the 19th century. The UK led the Industrial Revolution and developed a huge manufacturing sector. Today, manufacturing has declined, as it has in most developed Western countries. It now makes up about one-fifth of the country's total GDP.
Features:
Population: 66.1 million
GDP: $3,022.580 billion
World Rank: 7th
GDP Growth: 1.8%
Big Industries: 

 Finance, information technology, construction, oil and gas

Leading Companies: Royal Dutch Shell (oil), BP (oil), Prudential Public Limited (finance)
What Aspects Make It Great?
The UK economy has a legacy of being a leader in capitalism and global economic development. Even though the economy has changed since the industrial revolution, the UK has been able to adapt. It has always been open to trade and a large exporter. Its capitalist economy has established the UK as a major economic hub and trade partner.
8. Canada
Canada is the second largest country in the world by size and has one of the top ten largest economies in the world.
Brief on Canada's Economy
Not surprisingly, the US is Canada's main trading partner. Because of this, about 90 percent of Canada's population lives within 100 miles of the US border. This border is one of the longest in shared borders in the world.
75 percent of Canada's exports are sent to the US. As such, Canada's economy is very dependent on the US's. Mexico and the UK are two other main trading partners.
Its biggest exports are oil and energy. Canada has the third largest oil reserve in the world. The country began increasing oil mining in the early 2000s. Since then it has quickly risen to become a top five oil exporter in the world. The majority of oil goes to the US.
Features:
Population: 36.7 million
GDP: $1,908.530 billion
World Rank: 10th
GDP Growth: 3.0%
Big Industries: 

Service, energy, manufacturing

Leading Companies: Manulife Financial (finance), Power Corporation of Canada (finance), Magna International (auto) 
What Aspects Make It Great?
Canada's openness to trade is key to its economic success. Capitalism has allowed Canada to take advantage of its best resources and grow its economy.
Competition has allowed Canada to grow its service sector into one of the largest in the world. Industries like retail, business, education, healthcare, and tourism contribute to 80 percent of the GDP. That is very high.
9. United Arab Emirates
The UAE's economic success is due to oil. Oil was discovered there in the 1950s and they began exporting oil in the 1960s. Before then, the UAE was a poor state that relied mostly on fishing.
Brief on UAE's Economy
Since the 2008 financial crisis, the UAE has made efforts to diversify its economy. It has focused on industrial manufacturing in areas like telecommunications, satellites, and aviation. Aviation has grown the most. The country expects aviation to add up to 32 to its GDP next year.
The country has also grown its tourism economy. It has become one of the top visited countries in the Middle East. The UAE has invested a lot into its tourism infrastructure and has received a lot of publicity for that. It has become one of the countries where the annual number of tourists is greater than the resident population.
Features:
Population: 10.1 million
GDP: $427.830 billion
World Rank: 30th
GDP Growth: 0.5%
Big Industries: 

Oil, engineering, real estate

Leading Companies: Etisalat (telecom), First Gulf Bank (finance), Emaar Properties (real estate)
What Aspects Make It Great?
Many countries have a rich source of oil but struggle economically. Venezuela is an example of this. The UAE, however, has used capitalist principles to diversify its economy and protect itself from economic downturns. Its free trade policies encourage international investment and foreign businesses. Economic freedom has led to growth in tourism, aviation, and trade. Its progressive policies have allowed the UAE to become one of the top ten most competitive economies in the world.
10. Taiwan
Taiwan, officially the Republic of China (ROC), is a state in East Asia. Neighboring states include the People's Republic of China (PRC) to the west, Japan to the northeast, and the Philippines to the south.
Brief on Taiwan's Economy
Taiwan's economy is built around manufacturing. However, that area of their economy has slowed in recent years. Because Taiwan is one of the largest exporters in the world, its economy can shift more easily depending on the international market. It is also susceptible to competition, like that from China, Vietnam, and Japan. Its main exports include electronics, ships, machinery, and more. Over a quarter of its exports go to China.
Taiwan still has the fifth largest foreign reserves in the world. This makes the economy more stable. Recently, Taiwan has been developing its technology sector. This is in order to diversify the economy more and become less dependent on manufacturing exports.
Features:
Population: 23.6 million
GDP: $620.600 billion
World Rank: 24th
GDP Growth: 2.8%
Big Industries:

Electronics, communications, information technology

Leading Companies: Taiwan Semiconductor Manufacturing Co (technology), Formosa Petrochemical Corp (oil), AU Optronics Corp (technology)
What Aspects Make It Great?
Freedom in the Taiwanese economy has allowed it to be very competitive globally. Many of the world's top economic powers manufacture in and import from Taiwan because of this. The largest importers are China, Hong Kong, the US, Japan, and Singapore.
Taiwanese companies have developed leading production methods through competition. And because of this, Taiwan enjoys a trading surplus with most countries and has one of the largest foreign reserves.
Capitalism Examples Summarized
There are some common traits of the top examples of capitalism. Many of the top capitalist countries have a very free economy.  Another great example not on the list is the United States, which is mostly capitalistic. They are open to international trade and friendly towards large, international corporations.
Capitalism encourages strong global competition, innovation, and economic relationships with other prosperous countries.
Here at Capitalism.com, we're on a mission to make one million millionaires by 2028. We'd love YOU to be one of them!
The first step is finding your million-dollar business idea. Get started today by watching this free video that'll help you find the perfect business for you to build. Watch it here.