Andrew Carnegie was a Scottish-American industrialist and philanthropist who made a name for himself in the late 19th century through his pioneering work in the steel industry. He's widely regarded as one of the richest people in history, but how wealthy was he?
That question has been debated for decades, with some estimates ranging from a few hundred million dollars to over $300 billion in today's money. In this article, we're going to take a deep dive into Andrew Carnegie's net worth and exactly how he went on to become the richest man on the planet back in the 20th century.
Plus, find out how we can coach you to grow YOUR net worth, absolutely free.
So, stick around and keep reading.
| | |
| --- | --- |
| Andrew Carnegie's Net Worth | $372 Million (est.) |
| Born (Date of Birth) | November 25, 1835 |
| Death | August 11, 1919 |
| Age (At the time of Death) | 83 years old |
| Place of Birth | Dunfermline, Fife, Scotland |
| Nationality | American |
| Gender | Male |
| Sources of wealth | Industrialist and Philanthropist |
| Height | 5 ft 6 in(1.6 m) |
How much was Andrew Carnegie's net worth at his death?
Andrew Carnegie's net worth at the time of his death in 1919 was estimated to be around $372 million. He had amassed his wealth through his investments in steel and other industries, and he became one of the richest people of his time.
Who was Andrew Carnegie?
Andrew Carnegie was a remarkable man who achieved great success and left an enduring legacy. Born in Scotland in 1835, he came to America as a young boy and started working at a textile mill at 13. But Carnegie was a driven and ambitious young man, and he soon made his way into the steel industry, where he would eventually make his fortune.
Carnegie's most significant contribution was the creation of the Carnegie Steel Company, which he sold to J.P. Morgan for a staggering $480 million in 1901. That made him one of the richest people in the world, but Carnegie was not content to simply hoard his wealth. He believed that the wealthy were responsible for using their money for the greater good, and he devoted much of his later years to philanthropy.
Carnegie's philanthropic work was truly impressive. He established public libraries across America, including some in small towns where people had never had access to books. He also founded Carnegie Mellon University and the Carnegie Endowment for International Peace. He believed that education and diplomacy were the keys to a better world and put his money where his mouth was.
What were the main sources of Andrew Carnegie's wealth?
Let's find out exactly what sources have made Andrew Carnegie one of the richest people in history.
Steel Mills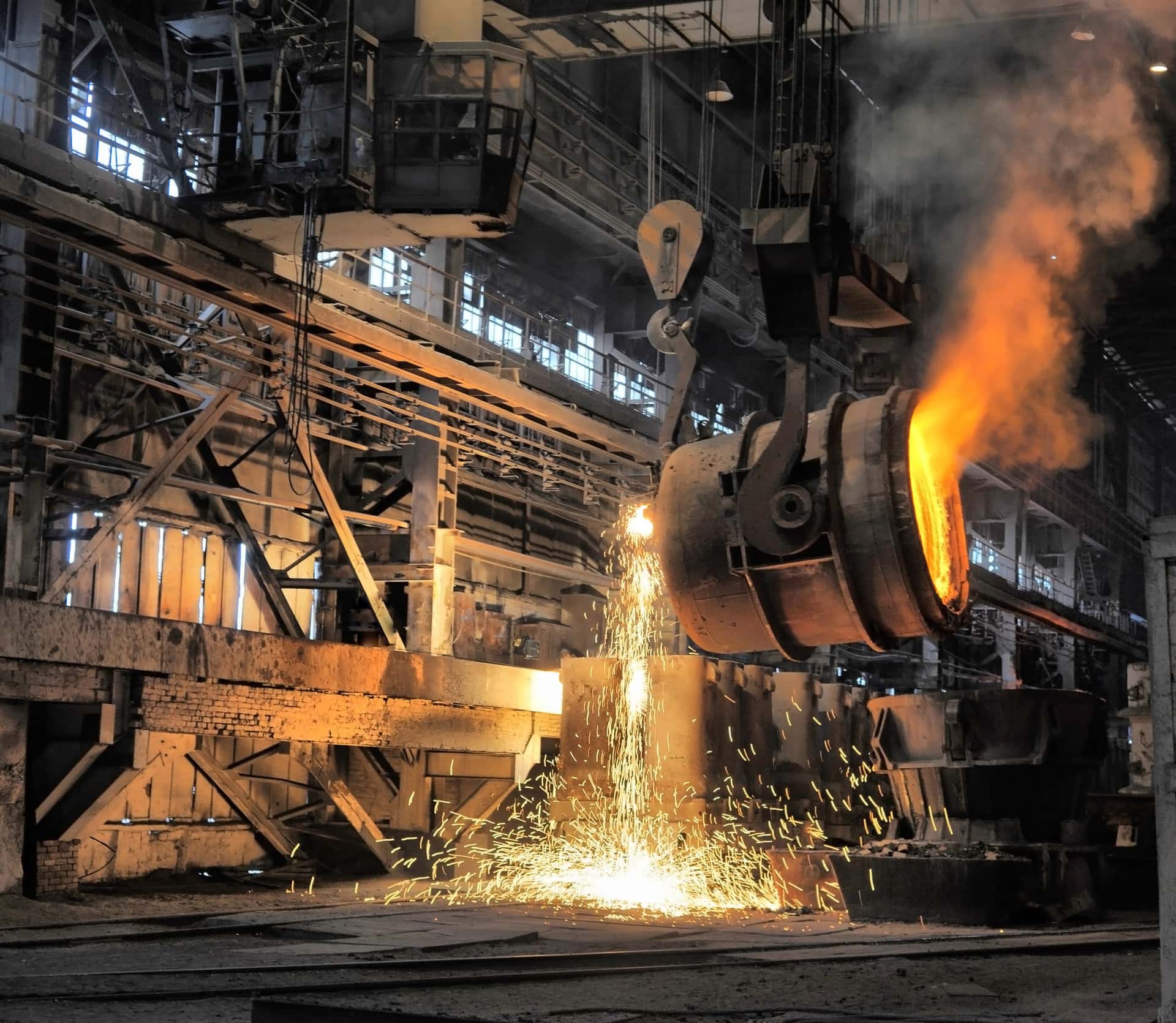 Andrew Carnegie's fortune is inseparable from his significant contribution to the steel industry. The first milestone in his journey toward financial eminence was the founding of the Keystone Bridge Company.
However, the establishment of his steel factory in Pittsburgh truly propelled him to the status of a tycoon. At the zenith of his success, his mill churned out more steel than even the entire nation of Great Britain in 1900.
Railroad Industry
Andrew Carnegie's impressive involvement in the railroad industry began with an investment in the Woodruff Sleeping Car Company, which produced sleeping cars for railroads. This initial step led him to invest in the rapidly expanding railroad business. After his investments paid off, he acquired several local railroad firms, which he smartly combined into the Pittsburgh and Lake Erie Railroad.
The success of his railroad business was not limited to this industry alone. It proved as a valuable asset for his other businesses as well, enabling reliable transportation of both raw materials and finished goods. In total, Carnegie invested over $52 million in the railroad industry, which is equivalent to over $1.5 billion today.
Carnegie Steel Company
Andrew Carnegie founded the Carnegie Steel Company in 1892, which quickly grew to become the largest steel producer not only in the United States but throughout the world. With a distinctive vision to create a vertically integrated company that controlled every aspect of steel production, Carnegie Steel was renowned for mining iron ore and delivering finished products to customers.
Carnegie Steel produced more steel than all of Great Britain by 1900, with over 20,000 workers under its banner. In 1901, J.P. Morgan bought the company for an unprecedented $480 million, equivalent to more than $14 billion today.
Oil Industry
The legendary industrialist, Andrew Carnegie, was a visionary investor with incredible foresight, even in the oil industry during its infancy. While still in its initial stages, Carnegie invested substantial amounts in oil refineries and pipelines, eventually forming the Keystone Bridge Company in 1865.
At that time, this company played an instrumental role in supplying iron bridges to oil producers and railroads in Pennsylvania, the heart of the oil industry. As the demand for bridges rose with the growth of the oil industry, so did the value of the Keystone Bridge Company, resulting in substantial profits for Carnegie. As a shrewd investor, he also invested in other oil companies such as the Union Oil Company, which later merged with Chevron.
Mining Industry
Andrew Carnegie was a man of many talents, and one of his biggest wealth generators was his foray into the mining industry. Starting as a telegraph assistant in the 1800s, he quickly identified the growth potential of the steel market and began investing in iron and coal mines in 1865. His foresight paid off handsomely as the steel demand skyrocketed. In fact, by 1882, he had merged his steel interests to form the legendary Carnegie Steel Company.
In time, this mighty corporation became one of the largest steel manufacturers globally, earning Carnegie the title of one of the wealthiest individuals of all time. His shrewd investments in mining were just one facet of a remarkable career marked by ingenuity and business understanding.
Manufacturing
Andrew Carnegie was a visionary businessman who made a significant impact in the American manufacturing industry. After launching his steel empire, he ventured into other areas, including railroad and bridge building and oil and gas production. Carnegie's business understanding developed a vertically integrated system that enabled him to generate maximum profits and efficiencies.
With his unwavering leadership and avant-garde thinking, he introduced new technologies that made his mills more productive and cost-effective. Consequently, his manufacturing enterprises earned him a massive fortune. This cemented his status as one of America's pioneering industrialists.
Property Investments
Beginning in the late 1860s, Carnegie slowly expanded his portfolio and became a significant stakeholder in numerous high-profile properties across the United States by his retirement in 1901. His success in this particular domain can be attributed to his sharp acumen in identifying highly lucrative opportunities and skillful negotiations.
For instance, he made a significant profit by purchasing a vast Manhattan plot for $400,000 and selling it for a whopping $1.9 million in just a few years. Carnegie's legacy as a shrewd property baron endures to this day.
Banking
Andrew Carnegie was widely recognized as one of the most astute leaders in the banking industry. He played a crucial role in shaping the financial landscape of America with his brilliant investments that propelled economic growth. Carnegie's influence peaked when he owned substantial shares in prominent banks, including the renowned Fifth Avenue Bank.
Moreover, his entrepreneurial expertise was not limited to banking as he co-founded the legendary Carnegie Steel Company, whose groundbreaking achievements continue to inspire numerous industries today.
Entertainment Industry
Andrew Carnegie's innovative approach to investing was not limited to traditional industries only. Yes, he had an eye for the entertainment sector too. In the late 19th century, he poured substantial resources into the budding music industry. He built the iconic Carnegie Hall, which remains a pillar of classical music performance in modern times.
His passion for entertainment extended beyond music to include the world of theater, where he owned significant stakes in several companies. He also got into the rapidly expanding film industry, in which he was a major investor. By recognizing the potential of the entertainment industry, Carnegie secured his place as one of America's greatest industrialists and entrepreneurs.
FAQs
What was Andrew Carnegie's net worth?
Andrew Carnegie's net worth was $372 million.
How did Andrew Carnegie make his money?
Andrew Carnegie made his fortune in the steel industry. He rose from being a lowly telegraph messenger boy to one of the world's wealthiest men by dominating the steel industry. His innovative business strategies and integration of new technologies catapulted his company, Carnegie Steel, to great heights. Carnegie was a master of vertical integration and owned all aspects of the production process, ensuring efficiency and quality.
How did Andrew Carnegie become the 19th century's richest man?
Andrew Carnegie, one of the wealthiest men of the 19th century, built his empire on a foundation of astute business strategies and a sprinkle of good luck. From humble beginnings as a telegraph messenger boy, he worked his way up the ranks of the Pennsylvania Railroad. Then he found his calling in the booming steel industry during the Industrial Revolution.
Carnegie's knack for owning every aspect of the steel production process and implementing vertical integration paved the way for unprecedented cost-cutting and profit maximization. His ultimate triumph came in 1901 when he sold his company to J.P. Morgan for a staggering $480 million. This fixed his place in the annals of history as one of the most successful businessmen of all time.
What was the Carnegie Steel Company?
Andrew Carnegie's Carnegie Steel Company was an innovative steel manufacturing firm that forever transformed the industry in the late 1800s. The company was one of the largest steel producers in the world and revolutionized the steel industry with new technology and production methods.
How did Andrew Carnegie view philanthropy?
Andrew Carnegie was a man who saw philanthropy as a crucial tool for the betterment of society. With a strong belief that the wealthy are responsible for aiding the less fortunate, he dedicated a significant portion of his wealth to charitable causes.
In his world-renowned essay The Gospel of Wealth, Carnegie detailed how the rich should use their resources to create pathways for others and elevate society's standard of living. His contributions speak volumes, from funding the construction of libraries, schools, and universities to aiding medical research and international peace endeavors.
How did Andrew Carnegie's wealth compare to today's tech billionaires?
Andrew Carnegie's wealth was massive for the period he lived in. But if we adjust his fortune for inflation, it comes to around $372 billion in today's dollars. This would make him the richest person in history, ahead of modern-day tech billionaires such as Jeff Bezos or Bill Gates. Carnegie made his wealth through steel production, shipping, and railroad investments.
What other business ventures did Andrew Carnegie invest in?
Besides the steel industry, Andrew Carnegie invested in multiple other ventures throughout his lifetime. He was among the first investors in the American Telegraph Company and the Keystone Bridge Company. He also invested in oil drilling and real estate.
Later in life, he dedicated much of his wealth to philanthropic causes, founding the Carnegie Corporation of New York and the Carnegie Endowment for International Peace.
What is the Carnegie Foundation?
The Carnegie Foundation is a philanthropic organization Andrew Carnegie founded in 1911. Its mission is to promote the advancement and diffusion of knowledge, and understanding and to encourage the application of that knowledge to the betterment of humankind.
How did Andrew Carnegie spend his money?
Andrew Carnegie, the renowned millionaire of his era, was renowned for his munificent ways. A well-known philanthropist, he invested a significant portion of his fortune in various charitable causes. He even contributed millions of dollars to libraries, museums, and scientific research while founding the Carnegie Foundation for the Advancement of Teaching to boost the US education sector.
He supported causes that mattered to him throughout his life, such as global peace and nuclear disarmament. Moreover, though he made his fortune in the steel industry and owned several companies. They included telegraph and railroad businesses, but philanthropy remained a top priority throughout his lifetime.
What was Andrew Carnegie's mindset toward success?
In his memoirs, he stressed that education and continuous learning held the key to success. However, it was not just the knowledge that set Carnegie apart. His unwavering positive attitude and resilience in the face of challenges played an essential role. Carnegie believed that success could be achieved by anyone willing to apply these principles with enough dedication and perseverance.
Takeaway
Andrew Carnegie started with nothing but was able to build a colossal fortune in the steel industry, making him one of the wealthiest individuals in history. His secret to success was simple yet powerful. He invested in himself, constantly learned new skills, and utilized innovative and strategic thinking to climb the ladder. But that's not all there is to Carnegie. He understood that wealth is meaningless if it isn't used to impact society positively.
If Carnegie's story inspires you to build a business that makes the world a better place while also making you very wealthy, we can help.
In fact, we're on a mission to make one million millionaires by 2028. We'd love YOU to be one of them.
That's why we made this FREE course that will help you grow your net worth and make your first million. Join us and let's get started!