Playboy founder Hugh Hefner may have passed away in 2017, but his name and controversial legacy will continue to live on. Hugh Marston Hefner (April 9, 1926 – September 27, 2017) was an American magazine publisher. He was the founder and editor-in-chief of Playboy magazine, a publication with revealing photographs and articles that provoked obscenity charges. In this article, you'll learn about Hugh Hefner's net worth, how he got rich, and how he founded Playboy Magazine.
Plus, find out how we can help YOU build a million dollar brand... absolutely FREE.
What was Hugh Hefner's net worth?
Hugh Hefner had a net worth of $50 million.
Who is Hugh Hefner?
Hugh Hefner, in full Hugh Marston Hefner (born April 9, 1926, Chicago, Illinois, U.S.—died September 27, 2017, Los Angeles, California), American magazine publisher and entrepreneur who founded (1953) Playboy magazine.
During World War II, Hugh served as an infantry clerk. He spent the war drawing cartoons for several military newspapers.
In 1949, he became a personnel manager for the Chicago Carton Company and worked as an ad copywriter for a department store the following year.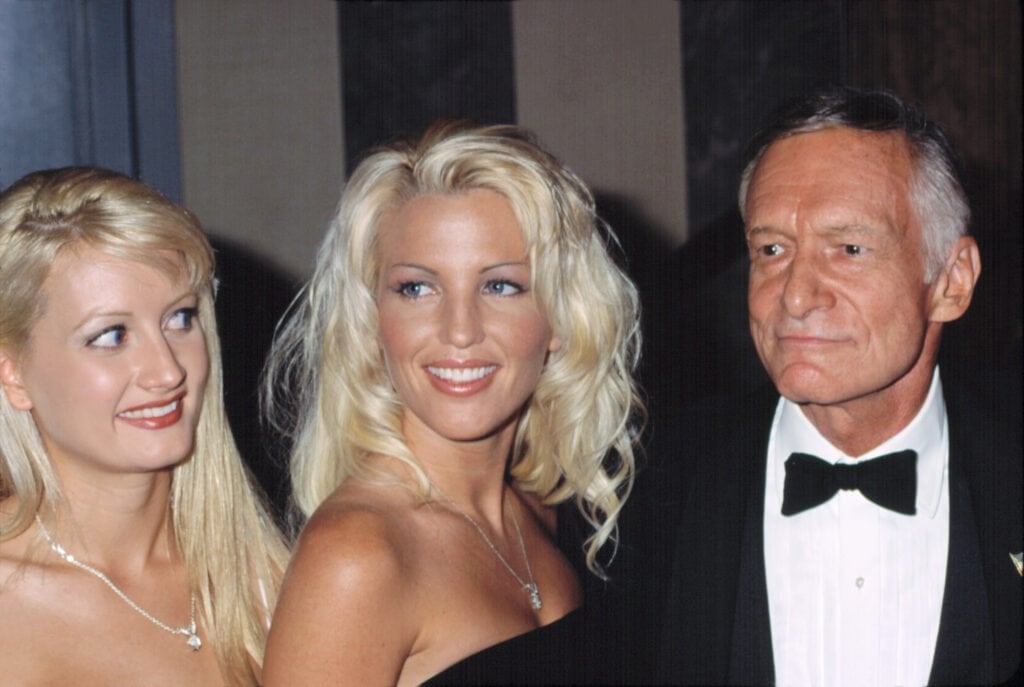 In 1951, he went to work for Esquire as a copywriter, and in 1953, he founded Playboy Magazine. Shortly afterward, the magazine packed up and left Chicago for New York. After being denied a $5 raise, Hefner chose to stay in his hometown, Business Insider reported.
He had two failed marriages. His marriage to Mildred Williams in 1949 lasted until 1959. The couple had two children named Christie, born in 1952, and David, born in 1955.
After three decades, he married Playboy's "Playmate of the Year," Kimberly Conrad. The union resulted in their two sons, Marston (born in 1990) and Cooper (born in 1991). In 2010, the couple divorced.
FAQs
How much was Hugh Hefner's net worth at his death?
At the time of his death in September 2017, Hugh Hefner had a net worth of $50 million.
How did Hugh Hefner build his media empire?
At the time of his death, Hefner owned 100% of the magazine and 35% of the overall brand.
Hugh Hefner started as a publishing copywriter and a cartoonist for Esquire in 1952.
He was turned down for a $5 raise, and he quit his job at the publication and ventured out on his own.
In 1953, Hefner founded Playboy magazine using $600 of his own money and several thousand more he borrowed, including $1,000 from his devoutly religious mother.
She wrote the check after her husband had said no, "Not because she believed in the venture," Hefner told E! in 2006, "but because she believed in her son."
So, it all started with $8,000 and some naked photos of Marilyn Monroe.
His magazine circulation peaked at 7 million issues per month in 1971.
However, he assembled the first issue of Playboy at his kitchen table—the issue featured nude photos of Marilyn Monroe from a calendar shoot she'd done early on in her career.
The magazine launched in December 1953 and was an immediate hit, selling over 50,000 copies.
Hefner became a controversial figure during the sexual revolution in the US due to the pornographic nature of the magazine. However, the publication also ran short stories from upcoming and established authors, as well as in-depth interviews with prominent figures.
What were some of Hugh Hefner's sources of income?
Magazine publication
Copywriting
Cartooning
Night clubs
How did Hugh Hefner's media empire benefit from using the Playboy logo?
The Playboy logo played a massive role in attracting the company's target audience.
In one interview, Hugh Hefner explained the logo: "The rabbit, the bunny, in America has a sexual meaning, and I chose it because it's a fresh animal, shy, vivacious, jumping – sexy.
What did Hugh Hefner's prenup agreement include?
His prenuptial agreement with his third wife specified:
Hugh would give her $5 million along with a $5 million house, which was placed in a trust she controls. Of his remaining estate, half would go to his children, and the remainder was earmarked for the University of California Film School and other charities.
How did Hugh Hefner's fame lead to financial success?
His fame led to financial success when he started Playboy Magazine.
How did Hugh Hefner's net worth decrease?
Hefner's wealth decreased significantly after Playboy's stock lost over 80% of its value in 2011.
What were some of Hugh Hefner's philanthropic endeavors?
Hefner's benevolence extended into the world of film. He donated $100,000 to the University of Southern California's School of Cinematic Arts to create a course called "Censorship in Cinema." He also donated $2 million to endow a chair for the study of American film.
Takeaway
The late Hugh Hefner was an epitome of success, evidenced by his extensive wealth. His life teaches us that with hard work, wise investments, and dedication, one can achieve wealth and success.
If his story inspires you to build a media empire in the soft-core porn world, we probably can't help you much. We wish you well.
But if Hugh's story of wealth creation inspires you to build a business that creates positive change in the world while also making you very wealthy? Now, that's where we can help!
In fact, we're on a mission to make one million millionaires by 2028. We'd love YOU to be on that list.
Your first step? Get your hands on this FREE million dollar brand playbook. Let's do this!