Love him or hate him, Grant has a knack for making money. In this article, we'll cover Grant Cardone's net worth, how he makes his money, and more. Plus, how you can learn to build a million dollar business you're really proud of, absolutely FREE.
Let's get to it!
What is Grant Cardone's Net Worth?
As of 2023, Grant Cardone's net worth figure is a reported $600 million. Known for his massive real estate empire, he's also a sales coach, author, and motivational speaker. He faced many obstacles on his way up - but his perseverance and love for deal making made him the business mogul he is today.
If you are a single-digit millionaire, you are not wealthy... you are worried."
A few quick notes on what he's become:
Real Estate Mogul
Automobile Sales Trainer
Best Selling Author
Philanthropist
International Speaker
How Long Did it Take Grant Cardone to Become Rich?
In his own words Grant, "...grew up poor." Born on March 21, 1958 in Lake Charles, Louisiana, he was one of four children - one of which is his identical twin brother, Gary. Losing his dad at the age of 10 began a spiral of troublesome behavior. As he explains, after his father died he had no male figure to look up to anymore. He recognizes that he had people who were equal to him or less than him.
"In everyone's life, you have someone you're looking up to or looking down to or looking sideways at." – Grant Cardone.
Education Might Have Been Grant's Saving Grace
His life as a teen is certainly not reflective of the adult he later became. Grant's teenage years were marred with drugs and alcohol. In and out of school due to detention and suspensions, he managed to graduate from high school. He later went on to graduate from McNeese State University in 1981. Grant later won the Distinguished Alumnus Award from McNeese in 2010.
Cardone's Early Career
He began his career after college working for a sales company. He lived in Houston, TX, LaJolla, CA, and Los Angeles. Within this timeframe, he developed a bad drug problem which led him to do a stint in rehab. Upon leaving rehab at age 25, Grant had a new lease on life. He hated his sales job but hated being broke even more. He also knew that having that job kept him busy and focused so he didn't have time for drugs. Grant became a millionaire within the next five years while working as a car salesman and investing in real estate on the side.
"Your greatness is limited only by the investments you make in yourself" - Grant Cardone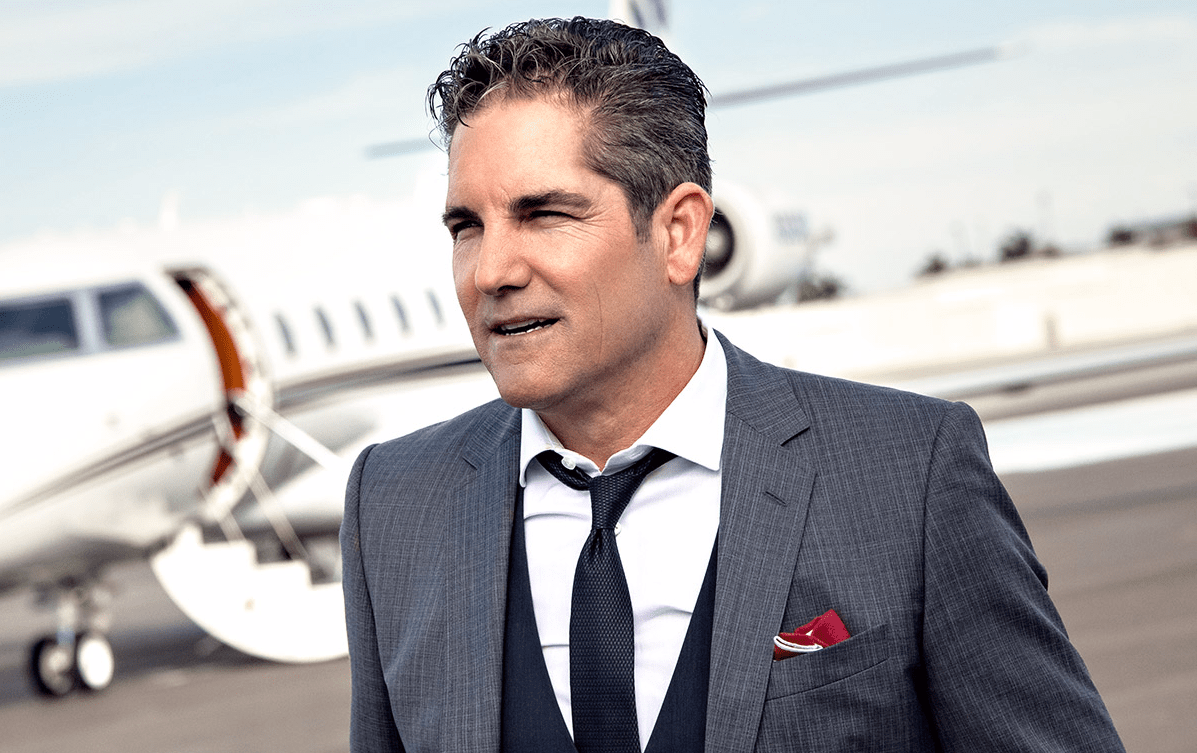 Before the Real Estate
Cardone's first business was a consulting business. He worked with car dealerships and manufacturers in the United States and Canada. The goal was making their sales processes more consumer-friendly, efficient, and profitable to end up with happy customers and dealers. Grant wanted to disrupt the auto industry and the auto industry paid him to do it along the way. He consulted while still working in auto sales until he had enough money to invest in his second real estate investment.
How Did Grant Get Started in Real Estate? Here's the Story
While a car salesman, Grant invested in his first property, a single-family property in Houston. After renting to tenants for seven months, they left. His cash flow dried up. This would be his first lesson in real estate.
He never wanted to depend on one tenant for income and cash flow. It was five years later but he decided his next property would be a multi-family complex in San Diego. A month after his first multi-family purchase, he bought his second property. His strategy was to use money from the first two to fund the third.
Grant continued to use this strategy and slowly acquired more and more property. By 2012, his company was said to have the largest private party acquisitions in Florida - especially for multi-family property.
Grant Cardone: Income from Real Estate Holdings
Grant Cardone is now the owner of Cardone Capital, Cardone Training Technologies, Grant Cardone TV, and Grant Cardone Sales University, which all amass multi-millions, annually. His companies reportedly own and control $800 million worth of investment properties in the United States. His multi million dollar real estate empire covers Alabama, Arizona, California, Florida, Georgia, North Carolina, Tennessee, and Texas. With his "be obsessed or be average" motto, Cardone Capital is sure to grow and expand further.
Cardone notes in interviews that his holdings are solely owned by him except a little less than 2% of his real estate portfolio which is owned by outside partners, including family and friends. He keeps his company close and tight. Most of his portfolio is financed with debt from banks and investors. He believes debt is good and money is a tool to trade for freedom. Grant Cardone's net worth stems largely from leveraging debt. He pays it off with profits from monthly revenues.
More Business Ventures
Cardone has authored five books:
"Sell to Survive"
"The Closer's Survival Guide"
The 10X Rule"
"Sell to Sold"
"If You're Not First, You're Last" (his most notable #1 best seller)
His sales programs are used by several companies such as Google, Toyota, Aflac, and Ford Motor Company. Then there's Grant Cardone TV, an on-demand business TV network.
He became introduced to television early when he was featured on Joan Rivers's show, "How'd You Get So Rich". In 2011, he helped to develop a show for National Geographic called "Turnaround King." In it, he visited failing businesses and would then give advice and action steps to get their business profitable. He and his wife currently produce a web series called "The G & E Show".
Grant can be seen as a regular on-air news personality on business news outlets such as Fox News, CNBC, Fox Business, and MSNBC. He is also a regular contributor for Entrepreneur.com, BusinessInsider, CNBC, AmexForum, and GCTV.com. Forbes named him #1 of the 25 Marketing Influencers to Watch in 2017.
Taking the Stage at CapCon... Before It Was CapCon
Cardone spoke at one of Capitalism.com's past events, Freedom Fastlane Live. His keynote covered what it looks like to 10X everything in life and business, acquiring hundreds of millions of dollars in property, and playing in the business big leagues. The entire keynote is embedded here!
And here's the scoop on what happened backstage.
What Is Grant Cardone Famous For? The 10X Rule
From writing books and programs, The 10X Rule was born. It is a wildly popular stand-alone brand. The book is solely based on the idea that you should figure out what you want to do. Then you multiply the effort it will take to get there by ten. This relates to business, relationships, family, and money.
He hosts a yearly three-day conference for business owners and entrepreneurs that reflects the principles of the book. The conference claims to change mindsets and behaviors that give people the confidence to up-level their lives. This conference covers topics such as sales, marketing, creating a dream life, branding, and more. It challenges sales and marketing gurus to up their game ten times more than what they currently give to their profession.
Speakers that have graced the stage at this event are Steve Harvey, Tai Lopex, Sarah Blakely, Daymond John, Russell Brunson, Bethenny Frankel, and many more. They tell their stories of accomplishing life goals and how you, too, can do the same.
"Approach every situation with an "in-it-to-win-it-whatever-it-takes" mind-set. Sound too aggressive? Sorry, but that is the outlook required to win nowadays." – Grant Cardone
People Also Ask:
How Much Does Grant Cardone Earn?
According to The Strive, he earns $117 million per year. That means $9.75M per month, $2.25M per week, and $321,428 per day.
What is Cardone Capital Net Worth?
Cardone Capital connects investors with real estate investment opportunities, managint more than 7,700 units worth more than $1.7 billion. It reportedly keeps 35% equity in each fund and has delivered a 6% return on average.
Who is Grant Cardone Married To? And Does He Have Children?
He is married to Spanish actress and model, Elena Lyons. Together they live in Sunny Isles Beach, Florida with their two daughters, Scarlette and Sabrina Cardone. He is a well-known family man. When asked how he makes time for everything - he always mentions his family first. It's obvious that he knows this question is directed toward his time with his family among all of his responsibilities spread across all his businesses.
Today, he will tell you that he writes down everything that he wants to succeed at and then obsesses over it. His family is on that list. He is committed to being a great father and husband. He is very creative in how he uses his time with his businesses and family so he can make it work for them.
How Old is Grant Cardone?
He was born March 21, 1958. That makes him 64 years old in 2022.
What Does Grant Cardone Do Every Day?
He spends his morning with his kids. They usually spend time out of the house at a local coffee shop or breakfast spot before school and work. This gives his kids quality time and stability with their father, even taking them with him to the gym. He purposefully makes time for them in his life.
He and his wife work together so that makes it a little easier. Their work together is intentional and rewarding. They both work on projects that play to their own strengths. This creates individuality while still working and playing together.
Is Grant Cardone a Scientologist?
He is a known Scientologist and doesn't shy away from his affiliation to the organization. Grant credits Scientology with improving every area of his life including his relationship with money and even his physical well being. He still believes in God and still practices his Catholic faith. But Cardone makes it known that the courses from Scientology have provided him with focus and a centered well being.
"There are some investments that have zero risks and can guarantee a return on your investment every time. Investments in myself have always paid off." - Grant Cardone
Does Grant Cardone Own a House and Car?
Most Americans go into debt to buy a house and a car. He famously counts them as silly purchases.
"Don't believe the fantasy of ownership. Rent a house and lease a car." - Grant Cardone
While he gives this advice, his net worth currently includes several homes and several cars. His argument for his owning these "luxury" items - he earned the right to own them. His threshold for buying a house and car is If you haven't made millions of dollars then you should not purchase a house and car with your hard-earned money.
Is Grant Cardone In Jail or Bankrupt?
In an April 2020 video, he released a video saying he was preparing to file bankruptcy. In this video, he said he'd lost everything. The jet, the cars, the condo, the apartment complexes, the watches, even his employees (except for one or two), and wife were all going or gone. He joked about possibly being headed to prison - but of course, it was all an attention-grabbing marketing ploy.
That wasn't the first time he pulled a publicity stunt like this. A while back, he published this clickbait video pretending he was going to jail.
He later published a video saying his bankruptcy announcement was just an attempt to break into the news cycle.
How Much Does Grant Cardone Pay His Employees?
According to Salary.com: Grant Cardone Enterprises pays an average salary of $4,784,918. Salaries range from $4,176,570 to $5,487,168, depending on the job, department, location, and each employee's individual skills and education.
Cardone's Road to Wealth
Cardone's net worth hit astronomical heights but started from humble beginnings. His cavalier advice on buying and selling is reflective of his humble beginnings. Tragedy followed by adversity could have held him back. So it's quite possible that after his stint in rehab, a new look on life presented itself with more possibilities than he had ever imagined before. He travels the world for motivational speaking, sales training or even to cut a new real estate deal. It seems he plans to live by his mantra of staying lean, being nimble, working hard, making hard decisions quickly, and of course, having fun.
"Speed is the currency that you want to maximize on today. Most people just go too slow. They think too long and they never take any action." – Grant Cardone
Of course, his approach isn't everyone's cup of tea. In social media and on-stage, he famously quips, "Don't be a little b****… champions dominate." That's not the only way to create wealth.
In fact, our whole take on capitalism is that it's the best way to serve people and make the world a better place. Our formula for building million dollar businesses begins with finding a group of people to serve, finding out what problems they're facing, and solving those problems through physical products.
We're on a mission to make 1 million millionaires who change the world for good. Our coaching programs have helped entrepreneurs like Sheldon Cho, Jason Franciosa, sisters Gemma and Georgie, and Leah McHenry - and hundreds more to make their first million.
We'd love to help you, too! In fact, we're on a mission to make one million new millionaires by 2028.
That's why we've just released a FREE course that'll walk you step by step through the process of building a million dollar brand of your own. Get started on your road to $1 million right here.