David Spade may have started as a funny man on Saturday Night Live, but now he's known for being an actor, comedian, and all-around American celebrity. But what is David Spade's net worth?
From tiny roles in cult movies like Tommy Boy to ripping up red carpets at movie premieres with some of Hollywood's biggest names—David Spade has certainly seen his fair share of success over the years. So what is David Spade's net worth?
Keep reading as we dive deeply into this beloved star's life and career to discover!
Plus, find out how to build a million dollar brand in about a year with our FREE training.
What is David Spade's Net Worth?
David Spade has an estimated net worth of $70 million. His impressive real estate portfolio includes Los Angeles and Malibu, California properties. In addition to his real estate investments, Spade has earned a fortune through his long career as an actor, comedian, and television personality.
Who is David Spade?
David Spade is an American actor, comedian, and writer. He was born on July 22, 1964, in Birmingham, Michigan. He is best known for his roles in Saturday Night Live (SNL), Hollywood films like Tommy Boy and Joe Dirt, Shoot Me!, and the TV series Rules of Engagement.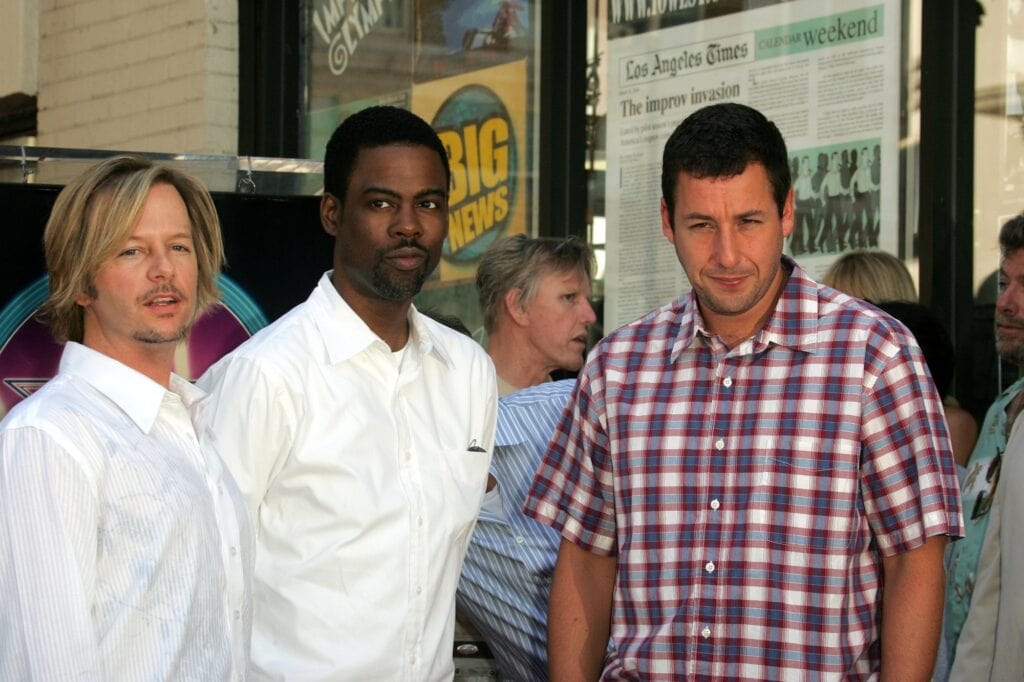 On SNL, he often worked with fellow cast members Adam Sandler, Chris Farley, and Rob Schneider. His comedy often includes self-deprecating humor and sarcasm.
He is the brother of fashion designer Andy Spade. He also has a daughter named Harper with former Playboy Playmate Jillian Grace. In 2006, he released his standup comedy special on HBO called David Spade: Take the Hit.
He stands at 5′ 7″ tall and continues appearing in films, T.V., and stand up comedy. He is a mainstay in the entertainment industry.
Due to his sharp wit and quick one-liners, Spade has become a popular figure on social media platforms like Facebook and Instagram, where he has millions of fans.
David Spade makes people laugh today with his entertaining career over three decades. His unique sense of humor and comedic timing make him an unforgettable presence in the entertainment industry. He's truly an icon in Hollywood comedy.
FAQ
How much is David Spade's net worth?
Well, he's been making people laugh for decades, and it has certainly paid off. David Spade is worth an estimated $70 million. He started in the comedy world as a Saturday Night Live cast member in the 1990s but soon launched a successful acting career with roles in movies like Tommy Boy, Grown Ups, and Joe Dirt.
He also has his own Netflix comedy special and currently stars in the sitcom Rules of Engagement. With all these gigs, it's no surprise that he's been able to build up such an impressive fortune. It looks like funny guys really can get the last laugh!
How did David Spade make his money?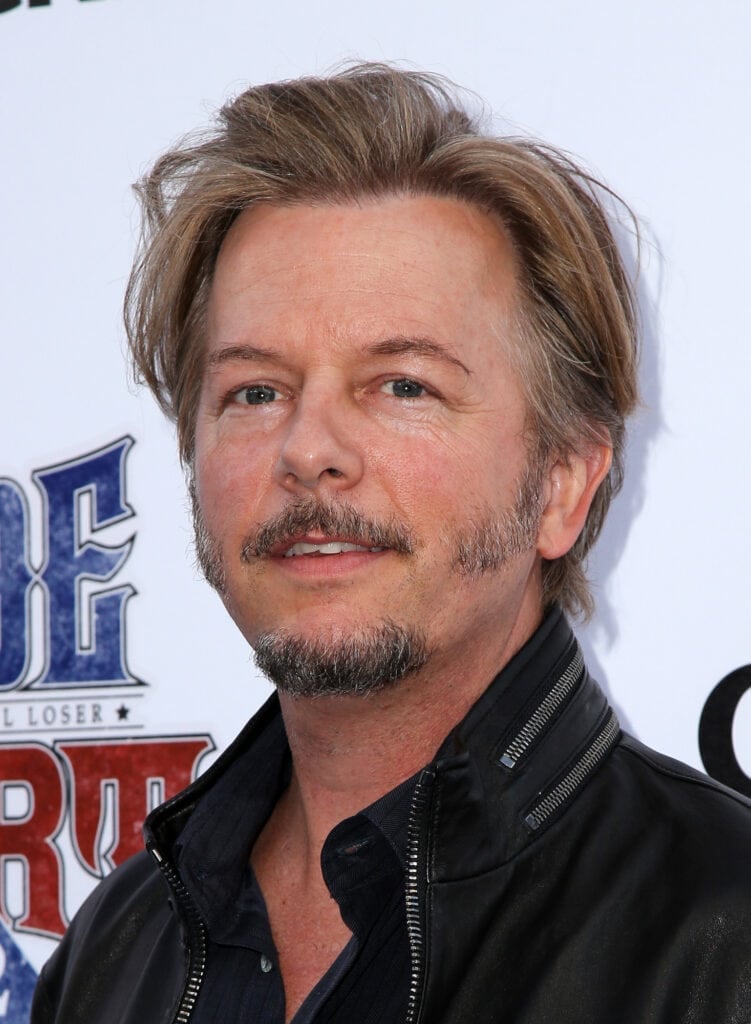 David Spade didn't just become famous overnight. He worked hard to make it happen! Starting as a writer and actor on Saturday Night Live in 1990, he went on to star in some iconic films such as Joe Dirt, Grown-Ups, and 8 Heads in a Duffel Bag.
However, he has also made money through standup comedy, hosting shows like The Showbiz Show with David Spade, and producing television series like Rules of Engagement.
Overall, David Spade has made his money by working consistently over the years in different areas of entertainment and media. From television to film, voice acting to writing books, it's clear that he's been successful in taking advantage of all his opportunities!
What are some of David Spade's most famous works?
David Spade is best known for his roles on the hit T.V. shows Saturday Night Live and Shoot Me and for his standup comedy specials. He also has movies like Joe Dirt, Grown Ups, The Benchwarmers, and Tommy Boy.
His most recent roles include recurring roles on the show Rules of Engagement and a lead role in the 2014 movie The Do-Over. He can currently be seen as one of the judges on ABC's hit comedy show, The Gong Show. Aside from his acting and standup career, Spade is also an author. He published an Almost Interesting memoir in 2015.
Spade is also a popular voice actor. He's voiced characters in animated movies like The Emperor's New Groove and lent his voice to video games such as Call of Duty: Modern Warfare 3. He can be heard voicing the character Don Lonfonzo on the Netflix series Paradise P.D.
David Spade has also made a few appearances in music videos and hosted his talk show, The Showbiz Show with David Spade, on Comedy Central. These works have secured him a place as one of Hollywood's funniest faces. He continues to entertain audiences with his unique brand of humor and wit. No matter the medium, David Spade will always make us laugh.
David Spade's most famous works will continue to bring joy and laughter for years. We can always depend on him for a good time, no matter where we find him.
What is David Spade's comedic style?
David Spade has a dry, sarcastic, and often self-deprecating style of comedy. He is known for delivering his lines with a deadpan expression, which often results in uproarious laughter from the audience. His impersonations of celebrities and pop culture references are also popular.
He often injects subtle and sarcastic jabs into his standup routines, which generally appear very witty. It's also uncanny how he can make fun of people in a way that doesn't feel mean-spirited or off-putting. In addition, he is skilled at poking fun at himself, and his personality quirks in an amusing way.
These humor styles combine to make for an incredibly entertaining comedy experience when watching his shows. Whether you're a fan of David Spade's stand up or appreciate his wit in movies and television, there is no denying that he has perfected the art of delivering comedy with a unique and humorous spin.
What is David Spade's real estate portfolio?
David Spade has a sizable real estate portfolio. He owns homes in Los Angeles and Malibu as well as a condo in Miami Beach—all of which are considered to be pretty spectacular spaces. Additionally, he has a cabin in his native Arizona.
Spade is fond of luxurious properties; his real estate portfolio reflects that. He loves to invest in luxurious living, from beachfront mansions to mountain cabins. The comedian has certainly come a long way from his humble beginnings.
What is David Spade's acting career?
David Spade's acting career began in 1990 when he made a series of appearances on Saturday Night Live. He quickly gained recognition for his sharp wit and deadpan delivery, which have become trademarks of his comedic style.
Since then, David has appeared in dozens of T.V. shows and films, including the beloved comedies Joe Dirt, Shoot Me!, Rules of Engagement, and The Emperor's New Groove. He also starred in the cult classic Tommy Boy and the comedy Grown Ups. He even had a stint as a guest star on Friends!
Aside from his filmography, David has also been an executive producer for various projects, including Joe Dirt 2: Beautiful Loser, The Hotwives of Las Vegas, and the Netflix series The Wrong Mans.
Who is David Spade's most famous co-star?
The answer is Chris Farley, and up to today, the unforgettable memories of over 25 years still linger in Spade's mind and heart.
Spade and Farley worked together on Saturday Night Live from 1990 to 1995 in several movies, leaving behind a legacy of laughter. Their most famous skit was the Bass-O-Matic routine, an instant classic that continues to be quoted by fans today.
How did David Spade become famous?
David Spade rose to fame in the early 90s with his role as a sarcastic and caustic office worker on Saturday Night Live. He quickly became a fan favorite for his quick wit and deadpan delivery of one-liners that would often leave the audience in stitches.
His time on SNL led to other opportunities, including an HBO special and feature films such as Tommy Boy, Black Sheep, Joe Dirt, and Grown Ups.
What awards has David Spade won?
David Spade won one Stinker Award in 2001 for his work in the movie Joe Dirt. He was also nominated for three additional Stinker Awards in 2006, 2001, and 1999. He won the Best Actor/Actress in a Bad Movie or Performance award. David Spade is no stranger to the Stinker Awards!
What is David Spade's website?
David Spade's website, davidspade.com, offers a variety of products from the comedian, actor, and writer himself.
Takeaway
David Spade is a comedian, actor, and producer who has earned an impressive real estate portfolio and awards for his films, T.V. shows, and standup comedy work.
If you aspire to be an actor like David Spade, we wish you all the best. We probably can't help you make that dream come true, but we'll be rooting for you.
But if you would like to emulate his entrepreneurial success and start your own business that makes the world a better place, we can definitely help with that!
In fact, we're on a mission to make one million millionaires by 2028. We'd love you to be one of them!
Your very first step is requesting your FREE million dollar brand playbook. Let's get started now!