Joey Chestnut is one of the world's most successful competitive eaters. And he's also one of the richest. Learn about his career, wins, and finances, as well as some of the competitions he has competed in and the records he holds.
From an engineering degree to competitive eating, Joey Chestnut traded in his white collar for a ketchup-stained bib. Millions later, this small-town boy with a big appetite found his calling by swallowing over 75 hot dogs in only ten minutes, to the amazement of fans everywhere. Today, Chestnut is among the best-known competitive eaters, with countless titles and records. And he doesn't plan on giving his stomach a break any time soon.
Joey Chestnut's net worth story proves all you need is an insatiable hunger for success to make it big—no matter how out-of-the-box your dream may seem.
Plus, find out how you can learn to grow your own million dollar brand FREE.
| | |
| --- | --- |
| Joey Chestnut Net Worth: | $4 million |
| Real Name: | Joseph Christian Chestnut |
| Age: | 39 |
| Date of Birth: | November 25, 1983 |
| Birthplace: | Fulton County, Kentucky, USA |
| Gender: | Male |
| Height: | 6 ft 0 in (1.83 m) |
| Source of Wealth: | Competitive Eater |
| Best-Known For: | 15-Time Nathan's Famous Hot Dogs Eating Contest Champion |
What is Joey Chestnut's net worth?
How much is Joey Chestnut worth? The competitive eater has an estimated net worth of $4 million.
Who is Joey Chestnut?
Joseph Christian Chestnut was born and raised in Fulton County, Kentucky, on November 25, 1983. When young Joey was only two, his father left. His mother packed up and moved Joey and his five siblings to San Jose. And he remembered having a big appetite from an early age.
Joey's mother cooked large meals for her equally large family. And he ate a lot. Blessed with a fast metabolism, Joey could consume unbelievable amounts and never gain a pound—a trait that would benefit him down the road.
After graduating high school, Joey attended San Jose State University, pursuing a degree in engineering and construction management. While in college, food was expensive. His brother noticed Joey not eating as much and unknowingly signed him up for a lobster-eating contest in Reno, NV. Although he didn't win, Joey fell in love with the "sport" and began training for future competitions.
Here's another entrepreneur who followed his passion…into space!
An Insatiable Appetite for Winning
Ready for a big meal and some cash winnings, Joey Chestnut signed up for another eating contest. He was only 22 when he won his first contest, the Deep-Fried Asparagus Eating Championship. The rookie beat veteran eater Rich LeFevre by finishing 6.3 pounds of asparagus in just 11.5 minutes. Chestnut's unexpected victory took the competitive eating world by storm.
That first win made Chestnut hungry for more. He began entering as many eating competitions as he could. In 2005, he placed third in Nathan's Hot Dog Eating Contest, set a new world record at the Arizona State Fair, and won the World Waffle Eating Championship.
Chestnut's appetite never slowed down. The eating king currently has hundreds of competitions under his belt and holds 55 world records for competitive eating. As Major League Eating proclaimed, "Joey Chestnut is the greatest eater in history."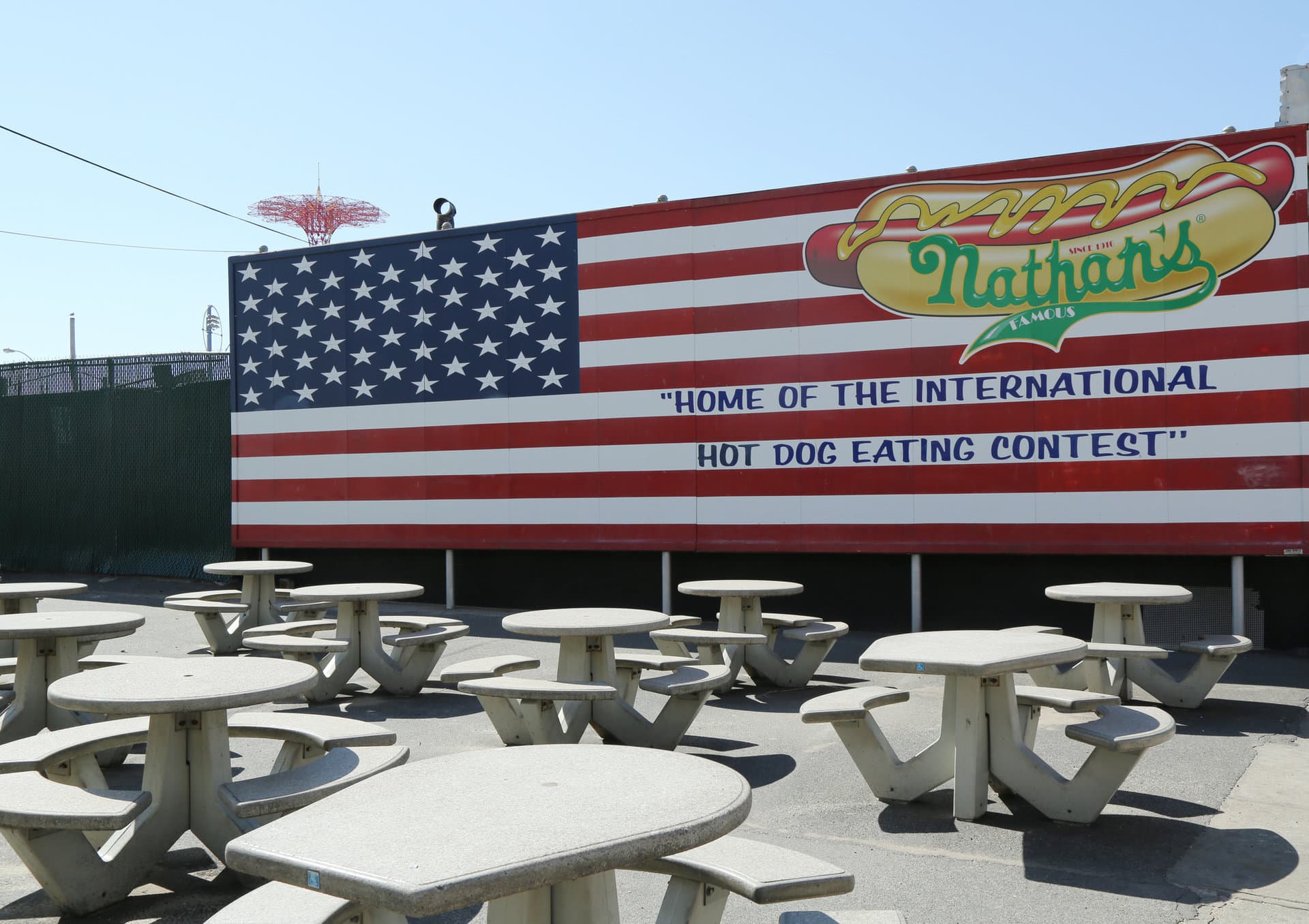 What are the sources of Joey Chestnut's income?
The professional competitive eater makes a lot of money by stuffing his face. But he also diversifies his income. Here's the breakdown of his eating earnings:
1. Eating Competition Winnings
Joey Chestnut has made at least $600K from eating competitions. He earns a modest amount from every contest he wins. Nathan's Famous Hot Dog Eating Contest pays each winner $10,000, and Chestnut has won 15 titles.
This Oracle leader was once the fifth richest person in the world!
2. Endorsements
Much of Chestnut's income comes from endorsements and sponsorships. His brand deals include:
Coney Island IPA
Hooters
Hostess
Pepto Bismol
3. YouTube Channel
Joey Chestnut's YouTube channel earns an estimated $6,000 from ad revenue daily. He currently has 276K subscribers.
4. Product Line
Chestnut launched a line of condiments in 2018. Fans can top their burgers and hot dogs with Firecracker Mustard, Sriracha Teriyaki, or Boardwalk Coney Sauce.
How much does a competitive eater make annually?
Be still my gluttonous heart. If you can eat as fast as a star-nosed mole and have a stomach of steel, you can make over $250,000 per year. Joey Chestnut earns an annual salary of around $500,000.
Joey Chestnut is worth a lot, but he's not eating alone.
Well-known competitive eater Takeru Kobayashi signed a deal with Hoffman's, an NYC hot dog manufacturer. The company reportedly agreed to pay him $100,000 annually and two percent of grocery sales.
Check out the net worth of these famous competitive eaters:
BeardMeatsFood net worth: $7.26 million
Matt Stonie net worth: $7 million
Sonya Thomas net worth: $5 million
Takeru Kobayashi net worth: $3 million
FAQs
Hungry for more tasty facts about Joey Chestnut? Here's a second helping:
How much is Joey Chestnut's net worth?
Joey Chestnut's net worth is $4 million.
How did Joey Chestnut become a competitive eater?
Chestnut always had a huge appetite. He told an interviewer, "I was always the big eater in the family. I just loved to eat big." His little brother recognized his talent and signed Chestnut up for his first competitive eating contest. As he said, things "kind of snowballed" from there.
What are some of Joey Chestnut's career winnings?
Chestnut has earned an estimated $600,000 from contest winnings. He banked $150,000 for his 15 wins at the annual Nathan's Hot Dog Eating Contest.
What are some of Joey Chestnut's eating records?
Joey Chestnut holds several Major League Eating records, including devouring:
17.5lb of cherry pie in 8 minutes (2022)
76 Nathan's Famous Hot Dogs and Buns in 10 minutes (2021)
81 waffles in 8 Minutes (2019)
141 hard-boiled eggs in 8 Minutes (2013)
390 shrimp wontons in 8 Minutes (2012)
45 pulled pork sandwiches in 10 minutes (2007)
103 Krystal Burgers in 8 minutes (2007)
47 grilled cheese sandwiches in 10 Minutes (2006)
Does Joey Chestnut have any social media accounts?
Joey Chestnut maintains verified accounts on Twitter (@joeyjaws) and Instagram (@joeychestnut).
What are some of the competitions Joey Chestnut has participated in?
Fans witnessed Joey Chestnut stretch his stomach at several competitions, including the World Taco Eating Championship and Hooters World Wing Eating Championship. But his most notable wins came from Nathan's Hot Dog Eating Contest. He has won 15 titles from that competition alone.
Does Joey Chestnut have any brand endorsements?
Yes! He has signed deals with Coney Island IPA, Hooters, and Hostess. In 2010, Pepto-Bismol sponsored his tour with Nathan's Famous Hot Dogs. On the partnership, the eating king said, "As a competitive eater, I'm trained to avoid and alleviate stomach upsets, and you can bet I'll be packing my Pepto."
What kind of training regimen does Joey Chestnut follow?
Chestnut has to keep his mouth—and stomach—in shape to perform at his peak. His training ritual includes various mouth exercises. He uses chewing devices and a weighted mouthguard to strengthen his masseter muscles. And before a competition, he fasts and stretches his stomach by drinking lots of water, milk, and protein supplements.
Takeaway
Joey Chestnut combined his passion for eating with his competitive appetite to become one of the most decorated professional eaters ever. No food is safe from his jaws. Filling his stomach with every food imaginable—hot dogs, sandwiches, burgers, pies, and more!—earned this powerhouse eater a $2.5 million net worth.
Now, if you want to wolf down 75 hot dogs or 300 wontons, Capitalism.com isn't the venue you need. We recommend consulting with a gastroenterologist for clearance first.
But if you are dedicated and hard-working like Joey Chestnut, Capitalism.com is the place for you! We help entrepreneurs like yourself build 7-figure businesses that bring financial security and a sense of pride.
In fact, we're on a mission to make one million millionaires by 2028. We'd love YOU to be one of them!
That's why we just released this FREE course that walks you through the journey from $0 to your first million. Let's get busy building your million dollar business now.