The rapper, the businessman and the author Jesse Itzler, is among the world's top entrepreneurs. Jesse Itzler started as a rapper and has now a net worth of $220 million. From rapper to songwriter he made his way up in the music industry. From being a co-founder of Marquis Jet to running marathons, he ventured his businesses and is a top celebrity and successful business magnate.
He is the man with many hats. Here is a detail about his early life, business and companies, and personal life. Read along, and you will see how Jesse Itzler Net worth reaches $220 million.
Early Life
Jesse Itzler was born on 22nd August 1968 in Roslyn, New York. He was born into a Jewish family. His father Daniel Itzler was an inventor, always trying to invent something new and creative. His mother, Elese Itzler, was a president of the Roslyn Board of Education.
In 1990, He earned his Bachelor's Degree at the American University. He then graduated with another degree with majors in justice, law, and society.
Jesse Itzler never waited for the right time to begin his career. He grabbed his opportunities and stepped into the world of music before his graduation. He got very inspired by the hip-hop culture and rap music that hit the late 70's.
He persuaded his Pop culture and Society Professor to allow him to miss his Monday classes. He then would go to record his debut album at Queens. The reason he has to skip his classes was that the studio was available to him only on Mondays. He negotiated with his professor for a 'customized curriculum.' Such bold moves paid off, and Jesse Itzler had a recording contract within two months of his graduation.
Career
Music Career
Jesse Itzler already began his music career before completing his degree. After graduation, he signed a contract with a record label named Delicious Vinyl. From then on, nothing was stopping Jesse Itzler. He released his debut album "Thirty feet in your face" in 1991. He released the album under the pseudonym, Jesse James. His first single 'Shake it Like a White Girl' got him recognition in the pop industry.
'Shake it Like a White Girl' reached 74 on the Billboard hot music charts back then. It was among the favorite party song; youngsters danced to and featured in the movie, White Chicks, in 2004. He co-wrote songs for different artists, including Tone Loc.
A New York Knicks fan approached him and gave an idea about collaboration. He took the risk of writing the song 'Go NY Go.' He played the song for New York Knicks, and they bought it. Since then Go NY Go became New York Knicks's anthem, fans chanted to.
The song gave him the spotlight in media. Collaborating with New York Knick taught him a lot about the market and negotiation. Jesse Itzler claims that he did not make the right deal back then. However, he knew he was in the right lane and where to proceed next.
He wrote songs for over 50 artists and projects. Jesse Itzler worked with National Ball Association Music. He produced the theme song for 'Inside the NBA.' His Song 'I Love This Game' was the audience's favorite back in time and won an Emmy Award.
Beginning of the Entrepreneurship
Jesse Itzler position grew better in the entertainment industry. However, being a famous rapper and songwriter was not enough for the hidden entrepreneur inside him. After collaborating with various record labels, Jesse Itzler decided to have a record company of his own.
In 1996, he co-founded Alphabet City Sports Records with Kenny Ditcher. Kenny Ditcher was his childhood friend and a successful entrepreneur. The record company was famous for using classic arena songs with historical play by play of famous professional teams. The company collaborated with Foot Locker and Coca Cola with the same campaigns.
Jesse Itzler still had a long way to go to build his net worth of $220 million. He and Kenny Ditcher sold Alphabet City Sports to SFX for $4million and a percentage of future earnings, in 1998.
Marquis Jets
Here is where the interesting part of Jesse Itzler's ventures comes. He and Kenny Ditcher co-founded Marquis Jets in 2001. The company aimed to provide jet cards. However, it was not an easy task. Neither they were the owner of a private jet company nor were they wealthy enough.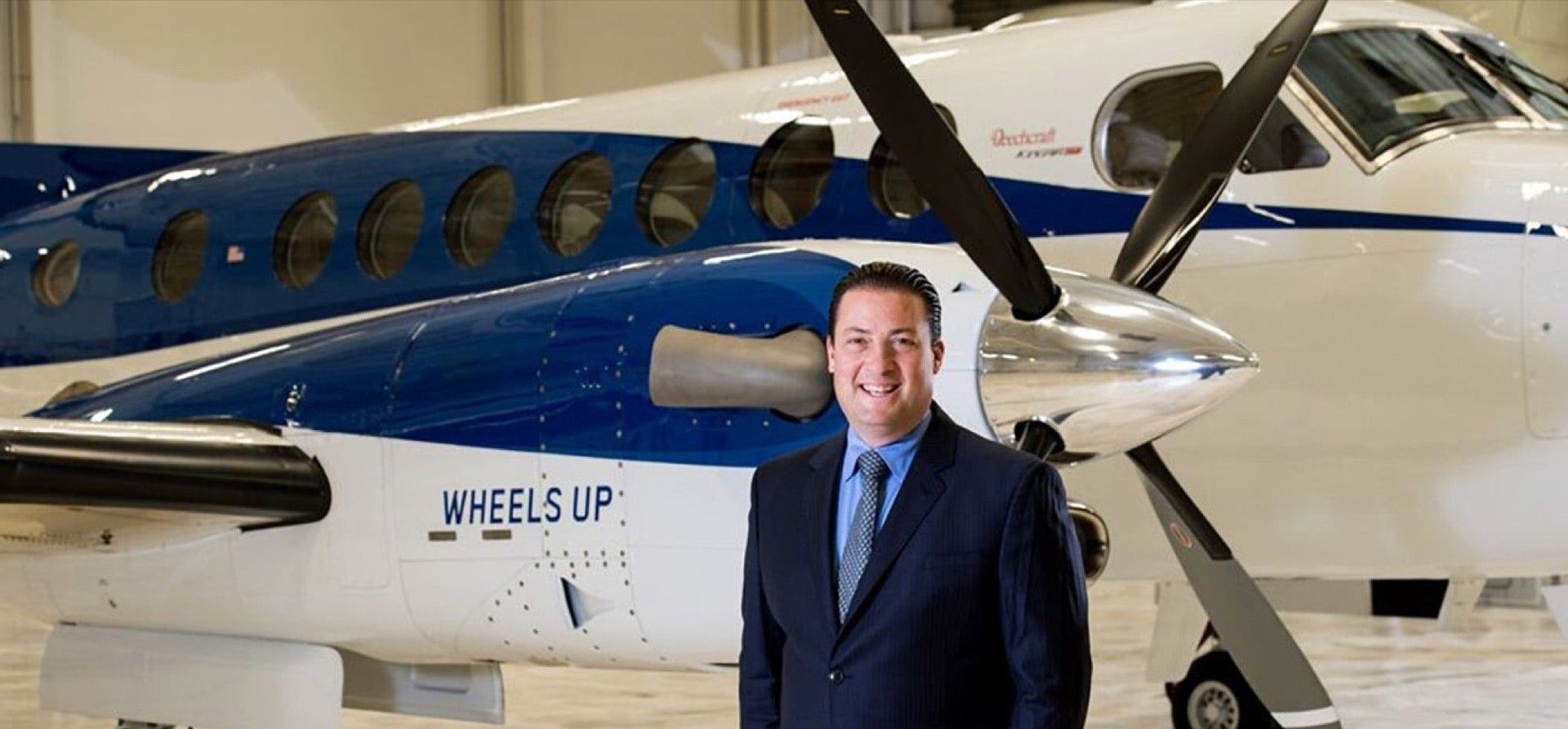 Pictured: Kenny Ditcher, co-founder of Marquis Jets
Net Jets was the company providing the largest jet cards. However, there was no way they could venture with such a big company. Then comes the play of Karma.
A few years back when Itzler was active in the music industry, a friend asked for a favor. He asked for the concert tickets of Christine Aguilera for someone's daughter. Itzler got the ticket and allowed the man's daughter to meet the singer on stage.
The man Jim Jacobs thanked him and asked him for any favor in return. Itzler years later got in touch to Jim Jacobs who is the president of Net Jets and arranged a meeting. It was a great risk, Itzler knew too. He did not know much about the private jets but was all set to try it.
After weeks of meetings and bringing new contacts to Net Jets, the efforts finally paid off. Net Jets allowed Marquis Jets to sold 25 hours of their flight time annually on the Marquis Jet's jet card.
Marquis Jets earned $5 billion within nine years. It proved to increased Jesse Itzler net worth. He was the company's vice chairman. Later in 2009, Marquis Jets was sold to the parent company of Net Jets, Berkshire Hathway.
100-Mile Marathon
Another one of Itzler's interesting ventures began in 2009. He ran a 100-mile marathon, powered by a coconut water brand Zico. He ventured with Zico and did a lot of marketing for the brand. His marketing and business strategies were win-win for him and the Zico brand. He made celebrity endorsements with the help of his contacts until Zico gained recognition in the market.
Atlanta Hawks
Jesse Itzler has always been a fan of American football. In 2015, He and his wife Sara Blakely purchased Atlanta Hawks with several businesspeople for $850 million. He is often present at the Atlanta Hawks games.
Personal Life
Jesse Itzler loved sports. His used his interest and love for sports in many of his career moves. His songs 'Go NY Go' and 'I Love This Game' became football anthems of their times. His record label company focuses on sports and professional teams.
Jesse Itzler love running and claims he cannot live without it. He is running since 1992. He is taking part in every running marathon in NYC whenever he can.
In 2006, he took part in US national Ultra Marathon Championship. He ran the marathon in less than 24 hours. In 2012, he participated in SEA Paddle NYC 25 mile stand up paddle race.
Itzler's early partner in life and career was Diana Mozie. He met her in 1987. He collaborated with Diana Mozie in most of his music projects under his Jesse James period. The two parted ways when Itzler still had a music career due to unknown reasons.
Jesse Itzler met Sara Blakely at Net Jet Poker Tournament. Both were seated adjacent to each other and bonded over their lack of knowledge. They became close friends and kept contact through emails. After seven months, they started dating.  Itzler used to ask her that he could marry her, casually. Blakely replied, "Bring it."
A year later, Itzler proposed Blakely. This was no ordinary proposal. Itzler organized a scavenger hunt to surprise Blakely with the most innovative and cutest proposal. Sara collected seven presents in her apartment, including three rings. One of the rings has engraved 'Jesse Hearts Sara.' The other ring said, 'Bring it.'
Jesse Itzler and Sara Blakely tied the knot on 18th October 2008. The couple's ceremony took place at the Gasparilla Inn and Club in Boca Grande, Florida. Blakely looked sheer beauty with her grandmother's wedding dress. There were 450 guests invited. Among them were well-renowned celebrity and businessperson.
Sara Blakely net worth in 2019 is $1billion. She made it to the Forbes list of America's Richest Self-made Women in 2018. She was 21st richest self-made women among the top 60. She started as the door to door, a salesperson for a fax machine. She realized she had her work priorities all wrong.
She launched Spanx in the year 2000.The brand for women undergarments, lingerie, and pantyhose. Spanx offered pantyhose in a variety of waistline sizes. Blakely aimed to provide comfortable women wear to women of all shapes and sizes.
Spanx quickly swept through the market place. Many women across the US love Spanx, including celebrities like Gwyneth Paltrow and Jessica Alba.
Living with a Seal
Living with a SEAL isn't just Jesse Itzler's book. It's his life-changing experience. He called a retired US Navy Seal to live with him. He then wrote about his training In Living with a SEAL- 31 Days Training with the Toughest Man on Planet.
The book blew up the charts, featuring memoirs and a witty nontraditional business guide. The writing is motivational and hilarious. Though the identity of the US navy is not there in the book, he referred to David Goggins.
Itzler saw David Goggins at the marathon, and Goggins inspired him. He asked him to live with him and give him intensive training to become better. Goggins moved in with Itzler in his apartment and gave him the toughest and most intensive training of his life.
Itzler had to anything and everything his trainer asked him to. There was no room for excuses. Goggins made him jump in and climb his way through a frozen lake. This was the toughest task Itzler did. He thought he would die freezing in that lake.
Many of us would think Itzler was a crazy person to ask a military navy person to live with him and train him. However, such was his dedication to become tougher and better at life.  He asked Dogging to shock his system up. He claims that the seal jump-started his system instead.
Itzler on Living with a Monk
If you thought to live with a Navy Seal wasn't enough, Itzler lived among monks too. This was another of Itzler's training that helps him release stress and live a vibrant life as he claims. He went to live in a monastery to seek peace and spirituality.
One thing Itzler speaks most of from his monastery experience is learning to deal with anxiety and fear. He listens to a monk who spoke about fear and anxiety and realized one thing. Itzler says that people worry most about the things that never happen.
He did a little experiment. He wrote down all his fears and the things that worried him. He put the list somewhere and forgot about it. Six months later, his phone beeped a reminder about reviewing that list. He went over the list and found that not a single problem worries him six months later.
Jesse Itzler advice others to do the same. He says that all of the worries people have is their wasted energy.  He wrote Living with a Monk - What Turning off My Phone Taught Me about Happiness, Gratitude, and Focus.
Keynote Speaker and Coach
The multitalented entrepreneur who leads an inspirational life is also a speaker and a coach. Jesse Itzler does speaking sessions at various workshops and programs. He shares his life lessons and success story. His speaking sessions are the complete package. They are hilarious, aspiring, and practical.
The man with many hats is also a business coach. His 'all-in' group coaching program; Build Your Life's Resume is available for anyone who wants to upscales their business. Itzler's coaching isn't only limited to improve your business but also your mindset, health, and overall well-being.
Itzler also shares his life's and business' interesting details on the Capitalism.com podcasts. Listen to it here:
Life Lessons and Principals
Here are the principals and lessons from Jesse Itzler's life:
Intuition: Your intuition is a valuable tool you have within you. Itzler advises not to put your strong intuition to test. He said that he made ventures and took steps that he deep down didn't feel was right. It turns out his intuition is always right.
Speed: Itzler warns not to rush into a business. Take your time researching when you're starting something new, even if it feels right. Begin with a steady and slow speed and then go fast. Knowing when to slow down, pause, and accelerate is your key to a successful business.
Be in the Shoes of the Buyer:  this is the most important thing to do to sell and make the highest of the profits. Jump into the shoes of your buyer. Envision their thoughts and idea regarding what they want. This helps you connect more to the buyer, and you make better products and services. You can't sell right if you don't know what your client truly wants.
Energy: If you wake up and find yourself lazy or anxious, trust in the energy you have. If you feel energetic, you're in the right direction. It's necessary to maintain the level of energy and excitement in everything you do.
Build Relationships: You owe a portion of your success to the people you know and what you learn from them. Invest in people and establish relations with people who are positive in life. Stay connected to the important people.
Summary
Jesse Itzler life is full of inspiration. His career graph is unique and rising. Starting as a rapper and songwriter to world's wealthiest entrepreneur Jesse Itzler net worth has reached $220million.
His business ventures and life's important steps were nothing short of risk. He is well capable of putting aside his fears and does whatever impossible task his intuition tells him to do. He is a determined, ambitious, and energetic entrepreneur with a dynamic personality.