Many years ago, the Musk household was filled with little soon-to-be entrepreneurs. We know one of them as Elon Musk – creator of Tesla and one of the richest people in the world. Although he tends to take the spotlight in the family, his brother is another successful and intelligent entrepreneur that's drastically changing the world of food. So, no surprise... people want to know about Kimbal Musk's net worth. We'll tell you - and how he made his money as well as how he spends it.
Early Life & Education
Kimbal Musk is hard to miss in a crowd, standing at 6′ 4″ and always wearing his signature cowboy hat. He grew up in South Africa with his two siblings Elon and Tosca. They have many cousins, as well as a few half-siblings from his father's side (one was just born in 2017)! 
Kimbal Musk's age is nearing 50 years old – he was born on September 20, 1972. As for his educational background, Kimbal Musk holds a B. Comm. in business from Queen's University and is a graduate of The French Culinary Institute in New York City.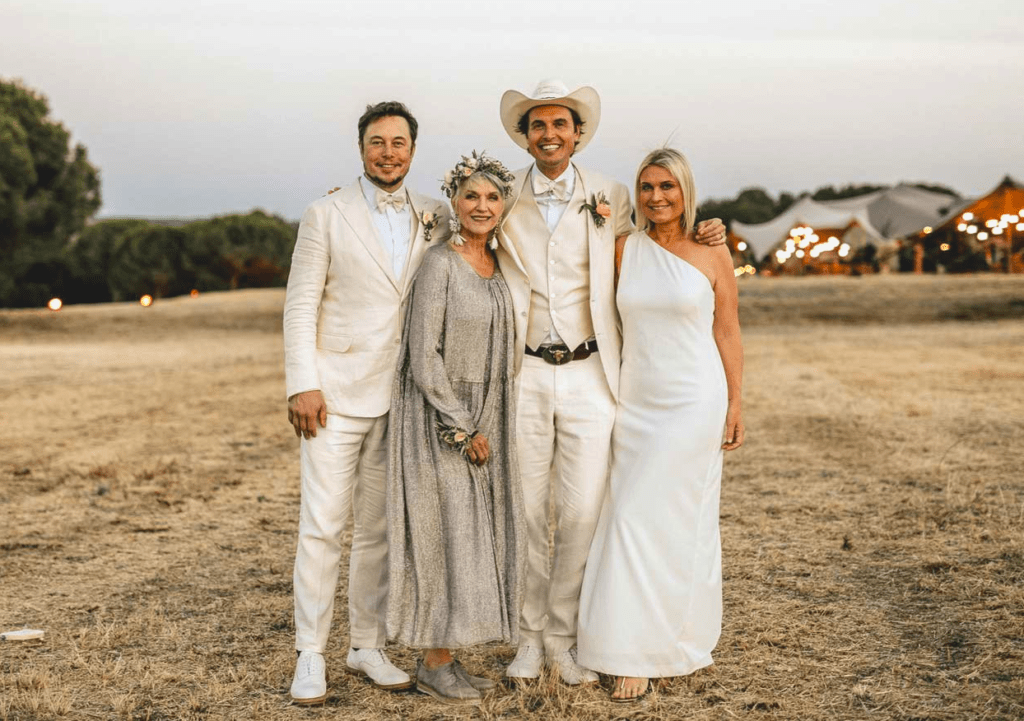 Kimbal Musk's Parents
Kimbal's mother, Maye Musk, is a model, dietitian, and speaker. She held the spotlight before Elon became so famous. As Covergirl's oldest model and an official IMG model, she's still doing very well for herself. Maye is very close to her children and is a huge supporter of their business endeavors. Although Maye Musk's net worth is unknown, we bet she's made a great deal over her years. 
Kimbal's father, Errol Musk, is a successful engineer, sailor, and pilot. He also owned an emerald mine in Zambia. According to Elon Musk, their father wasn't the greatest. Kimbal hasn't spoken on their relationship. Their parents divorced when they were kids and they all wanted to live with their mother, but Elon felt bad so he moved in with their dad. 
Having two self-made and successful parents likely helped teach Kimbal Musk and Elon how to be an entrepreneur.
Relationship With Elon
Kimbal Musk's brother Elon was always his partner in crime since they were just two years apart in age. Their first joint entrepreneurial adventure began before they were even adults! 
When Kimbal was 14 and Elon was 16, they went to Tiffany & Co in New York City and sold two of their father's emeralds. This was likely inspired by watching their father sell emeralds all over the world. They learned their lesson when the ring made with their emerald was upsold for more than 10x the price!
Kimbal's Entrepreneurial Adventures
Kimbal Musk's Net Worth: Estimated at $60 million
Since these technically began before he was an adult, it's no surprise that Kimbal started an official business just as he hit adulthood. 
College Pro Painters
Kimbal Musk's net worth creation began with his first business. He chose to follow his entrepreneurial kick right when he hit adulthood. At 18, he started College Pro Painters. His residential painting business made $50,000 over the span of two years. Not too bad for a first-time business owner! 
Zip2
After two years in the painting business, Kimbal embarked on his next venture – Zip2. He started this business with his brother, Elon Musk.
In addition to being like a precursor to Google Maps, Zip2 provided local advertising to newspapers like The New York Times. In 1999 when Kimbal was 26 years old, they sold the business to Compaq for $307 million. Their entrepreneurial journeys could have ended here with the chunks of cash they made, but they were just beginning. Elon Musk's net worth is now well into the billions. 
After selling, Kimbal began investing in young software and technology companies (one of these being Elon Musk's X.com, which eventually merged with PayPal). Although he found success in this field, he states he wasn't very happy in the tech world. He realized he should chase his love of food and cooking that he's had for his entire life. 
We recently sate down with Kimbal at the Capitalism Conference. You can watch his full interview below.
Culinary Aspirations + Ventures 
Kimbal took advantage of the best way to stay motivated while starting a business – be passionate about it! His first step towards his culinary endeavors was enrolling in the French Culinary Institute in New York City. 
After graduating, he traveled around the country looking for somewhere to settle down and start pursuing his dreams. He fell in love with Colorado and moved there right away. Soon after, he met his soon-to-be business partner Hugo Matheson.
Kimbal proceeded to open many restaurants and other food-related businesses that we'll share below. His ultimate goal is to bring real, healthy food to middle America and create a new casual dining experience. Kimbal Musk's Instagram is the perfect portfolio that displays his passion for the food industry. 
The Kitchen Restaurant Group (2004 – present)
Kimbal's first restaurant was opened in 2004 with his business partner Hugo Matheson and his then-wife Jen Lewin. The Kitchen Boulder was a community bistro in Boulder, Colorado. It has been named one of "America's Top Restaurants" by a number of sources including Food & Wine and Gourmet. Now, there are three locations: one in downtown Denver, one in Chicago, and the flagship location in Boulder. 
Next Door American Eatery (2011 – present)
The first Next Door American Eatery restaurant opened in downtown Boulder. Kimbal believes real food will revolutionize the world and the urban casual dining experience found at Next Door is his commitment to making this happen. First, it creates a gathering place for people. Then, it supports the restaurant with automation technology to speed up orders for quick and tastier food. 
Not only is quick service essential, but they're also dedicated to wholesome and affordable food. This growing concept has ten locations as of 2019. 
Square Roots (2016 – present)
For Kimbal Musk, farming is one way to revolutionize the food world. He is Co-founder and Chairman of Square Roots, an urban farming company that grows food in hydroponic, indoor, climate-controlled shipping containers. This company is rooted around helping the global food crisis. 
Although their herbs were only distributed in New York City, Square Roots recently announced a partnership with Gordon Food Service. This major food distributor works with 175 retail locations in the US! They plan to build their indoor farms near distribution centers and retail stores before selling the year-round product to customers. 
A huge advantage of these indoor farms is the fact that they can control climate conditions to reduce the risk of contamination into the water and the air. Their growing system uses 90% less water than traditional agriculture! 
Another quality that stands out is the QR codes on the back of Square Roots herbs. You can scan them to learn the growing process, where it came from, and even the name of the farmer who grew it. Check out this tour of the Square Roots growing facilities! We can imagine that Kimbal Musk's net worth will skyrocket as this business continues to grow. 
Other Business Ventures
Even while working on making the world a better place for food, he still sits on the board of directors for Tesla and SpaceX. Kimbal invested heavily in Tesla when it was a startup.
While Elon Musk takes a very small salary, Kimbal reportedly makes over $6 million a year as a director. He also owns thousands of Tesla stock units and has made 42 trades since 2011, which amounts to over $19 million. 
He was also on the board of directors for Chipotle until 2019. From 2012 to 2015, Kimbal was a director for the Anschutz Health and Wellness Center. This facility provides research, education, and wellness services aimed to achieve healthier lifestyles. 
As you can see, Kimbal Musk's net worth has derived from many different sources.
Surviving a Broken Neck
Not many people can say that they survived and recovered fully from a broken neck. Kimbal Musk is one of these lucky people! 
In 2010, a snow-tubing accident broke his neck, leaving him paralyzed for days and horizontal for months. Doctors say he was close to lifelong paralyzation. His accident shocked him into a realization: he wanted to make bringing real food to everyone his primary mission.
Kimbal Musk's Wife + Kids
Kimbal Musk has three children with his ex-wife, Jen Lewin. She's an interactive artist and architect who lives in New York. They had three children together throughout the duration of their marriage, but the marriage ended on good terms. 
He is currently married to Christiana Wyly, daughter of billionaire Sam Wyly. Christiana Wyly and Kimbal Musk's wedding occurred in Spain, in 2018. She has one daughter from a previous marriage. 
Where Does His Money Go?
Although Kimbal Musk doesn't have a portfolio of mansions like his brother, he's also not a billionaire. Kimbal does have a nice home in Boulder, Colorado with his wife. Their large, five-bedroom home was designed by architect Annette Martin. The farmhouse-style house was move-in ready when they purchased it. 
Charitable Contributions 
In addition to chasing his culinary passions, Kimbal desires to give back to the world. A good chunk of Kimbal Musk's net worth has gone to the funding of charities. 
Kimbal Musk founded Big Green soon after he healed from his broken neck accident. This non-profit is dedicated to educating children about where food comes from through dynamic learning gardens. This is paired with a curriculum. 
Each of The Kitchen restaurants donates a percentage of sales to help plant Learning Gardens in their community! By 2016, they had built 260 Learning Gardens across Chicago, Denver, Los Angeles, and Memphis. As of 2019, Big Green is in seven cities with nearly 600 schools. This impacts 300,000 students every day! 
In addition, Next Door hosts 25 "4U" events to raise money for local schools every Monday night. Any school can sign up, and 25% of the sales from that Monday night will go to them.
They've also established an international holiday called Plant a Seed Day.
Bottom Line
Overall, Kimbal Musk is a talented entrepreneur that will revolutionize the world of food. We're excited to have such a positive, generous man leading the industry. At the rate his businesses are growing combined with new ideas that he'll create, Kimbal Musk's net worth may soon approach his brother's billionaire status!
So, one reason so many people love reading articles like this - about people who've created massive, life-altering wealth - is curiosity. We want to know how'd they get so rich? What are they doing with all that money? What's their life like? It's almost as if there's this invisible wall we want to peer over, to see how "the other half" lives. It's as if the ultra-rich have secrets most people don't know. They DO! And that's good news, actually, because we can all learn them. Once we begin learning what they know, we can do what they did, and create the kind of life most people only wish they had. If you've got that same curiosity about "the other half" you should check this out.