From being one of the biggest celebrities on the planet to filing for bankruptcy and going to a rehab center, Lindsay Lohan's life has been full of ups and downs. Lohan, also called "Lilo" by her fans, was a famous figure in the early 2000s when she starred in multiple blockbuster movies. However, things went south for the Disney star when she failed to pay her taxes and got addicted to drugs and alcohol.
Still, she has managed to maintain her status of being a millionaire even after all these events. Hers has been one wild ride. So, sit tight and get ready to find out about Lindsay Lohan's net worth and backstory in this detailed article.
| | |
| --- | --- |
| Lindsay Lohan's Net Worth | $1.5 million |
| Salary | $200 thousand+ |
| Born (Date of Birth) | July 2, 1986 |
| Age | 36 years |
| Place of Birth | The Bronx, New York |
| Nationality | United States of America |
| Gender | Female |
| Sources of wealth | Actor, Model, Singer |
| Height | 5 ft 5 in (1.65 m) |
What Is Lindsay Lohan's Net Worth?
Lindsay Lohan has an estimated net worth of around $1.5 million as of 2023. Even though that number may be shockingly low, this is still a ton of money when you keep in mind that she was in debt in 2012.
Who Is Lindsay Lohan?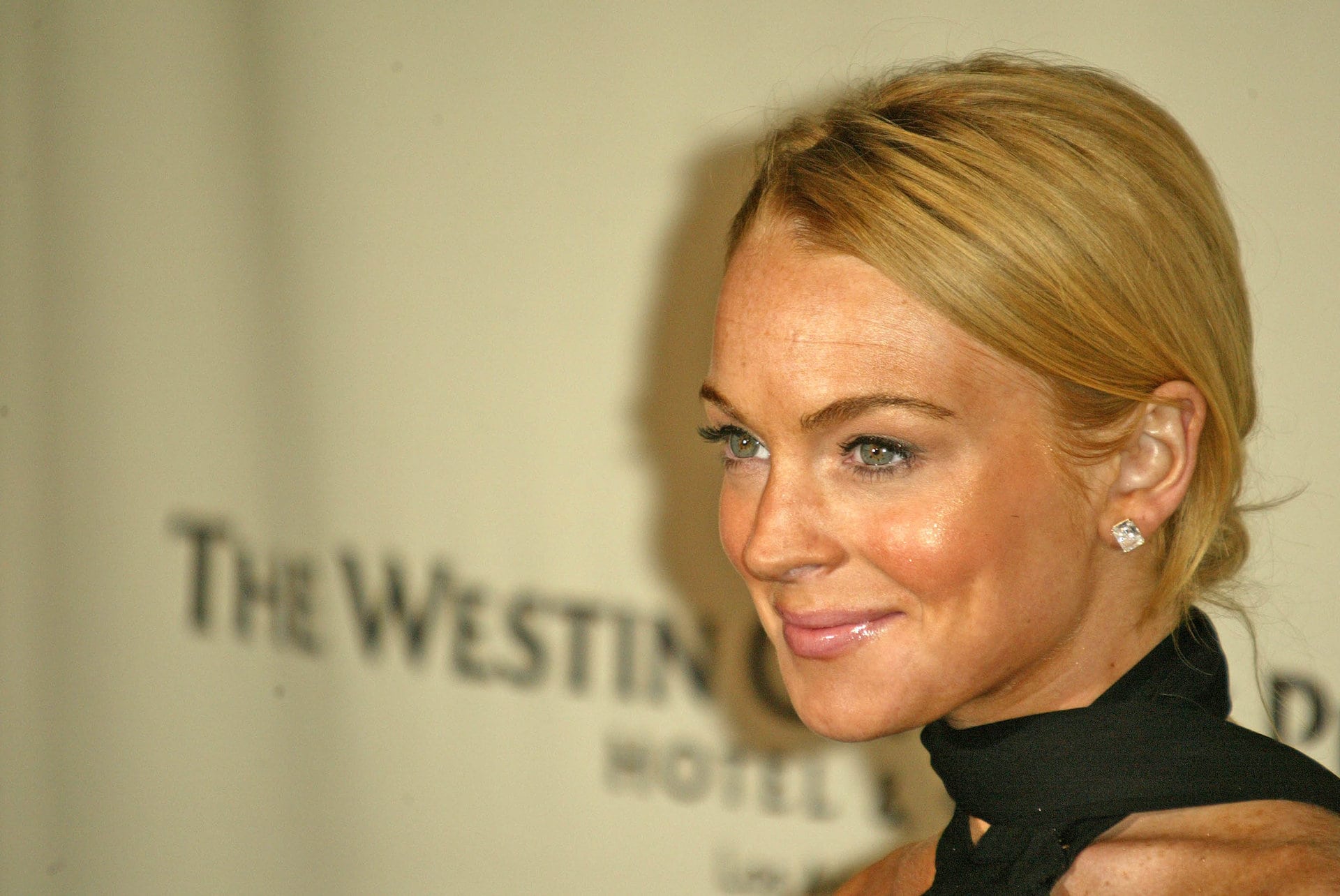 Lindsay Dee Lohan or better known as Lindsay Lohan, is an American actress, model, singer, producer, and entrepreneur. She rose to fame around the 2000s and has since attracted a lot of attention for her charming roles and controversies. She was born on the 2nd of July, 1986, in New York, U.S. She joined the television industry at the young age of 10 when she played the role of Alexandra "Alli" Fowler in the television soap opera Another World.
However, she got in the limelight when she first appeared in the critically acclaimed remake of the 1961 movie, The Parent Trap, which was a breakthrough for her successful movie career. After this, Lohan seemed like a growing star as she went on to appear in the chick-flick Freaky Friday. Although she had started receiving a lot of applause for all these roles, her career boosted like a rocket after she became the headline celebrity of the infamous movie Mean Girls.
Beyond Mean Girls
Apart from her acting career, she also tried her hands at singing as she released a few songs of her own, including Confessions of a Broken Heart, which was released five months after her father was sentenced to prison. The song was addressed to her parents, and it eventually helped her gain a lot of fame.
In 2005, she shocked the world when she returned to Disney in the final installment of the film Herbie: Fully Loaded, which helped her fame to grow even more. But as her fame grew exponentially through all these reasons, so did her struggles. And just when things seemed to have started to go wrong, she got into something that became the primary reason for her downfall, drug addiction.
Even after all this, Lohan decided to fight it off as she spent a lot of time in rehab to quit her alcohol and drug addiction. At the same time, she was also facing some legal issues regarding her federal taxes that had been due for a long time. However, just when the world thought that Lindsay Lohan would be relegated to the history books, she made a strong comeback when Netflix announced the film Falling For Christmas, starring the actress.
What Are The Sources Of Income For Lindsay Lohan?
Let's check out the various sources through which Lindsay Lohan built her wealth.
1. Acting
Even though Lohan has an acting career with a whole lot of ups and downs, the ups definitely have been sky-high. According to Celebrity Net Worth, Lilo made approximately $28 million through her movie salaries alone.
According to reports, she made $550,000 for the movie Freaky Friday in 2003 and a whopping $1 million each from Mean Girls and Confessions of a Teenage Drama Queen in 2004. Things got even better when she got paid a mesmerizing check of $7.5 million for three different movies, Herbie Fully Loaded (2005), Just My Luck (2006), and Georgia Rule (2007).
But, all this took a steep turn when a bunch of controversies and trolls came her way. Her paycheck was reduced significantly as she got paid $300,000 for Liz & Dick in 2012 and $200,000 for Scary Movie 5.
2. Endorsements
When it comes to endorsement deals, Lilo has had a lot of them throughout her career. From being the face of Dooney and Bourke, Proactiv, and Miu Miu, to having equity in Lawyer.com, she went on to be a go-to face for brands focused on teenagers and youngsters. Although it isn't confirmed how much she made through these deals, we can assume it to be a hefty amount.
3. Production Deals
Lindsay Lohan has had a few production deals in her career, including the recent deal with Netflix. According to sources, she has signed a deal for two original films with the streaming platform. One of them is Falling for Christmas, which is set to release in late 2023, and the other is also set to be released soon.
4. Clothing Line
Lindsay even had her own clothing line called 6126, formerly a leggings line, which was later expanded to a full clothing collection. Lilo has not made any statements regarding how much she has earned through this brand, but we can assume that it definitely earns her good money.
5. Singing
Lindsay isn't just a talented actor, but she is also a really good singer. When Lilo was at the peak of her career, she released two music albums, Speak in 2004 and A Little More Personal (Raw) in 2005, which performed quite well.
Apart from that, she sang in several of her films as well, including Mean Girls and even her most recent release, Falling for Christmas. There is no doubt that she earned handsome royalties through these projects.
6. Appearances & Endorsements
Lilo has made many appearances in multiple television commercials to date. Some of these brands include The Gap, Pizza Hut, Wendy's, and Jell-O. Other than commercials, she has also made appearances in many TV shows, like The Tonight Show, Starring Jimmy Fallon, and Award shows, like the Kids Choice Awards.
7. Personal Lifestyle
Lindsay Lohan's personal life has hit the news multiple times, affecting her income and net worth. Lindsay's known to be a spendthrift who, according to the media houses, is very much into alcohol and drugs. However, the people who are close to Lohan state that she is well over that phase of her life and now lives a healthy lifestyle.
8. Social Media
No matter how much people troll Lohan for her past, she is still a force to reckon with. With an Instagram following of more than 12 million, the former superstar is a popular figure on the internet even in the present day. That said, she does make good money through her sponsored posts.
FAQs
How much is Lindsay Lohan's net worth?
The estimated Net Worth of Lindsay Lohan is $1.5 million as of 2023.
How did Lindsay Lohan make her fortune?
Lindsay Lohan made her fortune mainly from her acting career. The remake of The Parent Trap(1998) was, without a doubt, the primary reason why her career took off, and later she starred in one of the most iconic films, Mean Girls. As she was one of the most in-demand actors at one point, she made a fortune worthy of that.
What was Lindsay Lohan's television debut?
Lilo made her first television debut in the television soap opera Another World when she played the role of Alexandra "Alli" Fowler in it. She took this role in the soap opera for a year, and then she went on to star in the Disney blockbuster The Parent Trap.
What was Lindsay Lohan's first remake?
Lindsay Lohan starred in Disney's remake of the 1961 movie, The Parent Trap. This was one of her most successful works and is considered a big stepping stone for her career.
How much has Lindsay Lohan paid for taxes and back taxes?
Lindsay Lohan had a tax mishap in the year 2009, as she failed to pay close to $100,000, which caused a $94,000 tax lien on the actress. Soon after, she had another mishap in the following year, which caused another lien against Lohan for around $150,000. This meant that she allegedly owed $233,904 to the IRS for both years combined.
Her friend Charlie Sheen paid $100,000 for her debt, but when someone pays the debt, it is considered an income, and the IRS gets a piece of it. This meant that Lohan would still owe more to the IRS in taxes, around $35,000.
What advertisement did Lindsay Lohan appear in?
Lindsay Lohan has appeared in several advertisements throughout her career. Some of the most notable ones include:
Calvin Klein Jeans - In 2005, Lohan starred in a campaign for Calvin Klein Jeans.
Miu Miu - In 2007, Lohan was the face of the Italian fashion brand Miu Miu.
Pitbull's I Am Legend Energy Drink - In 2010, Lohan appeared in a commercial for Pitbull's energy drink brand.
Jill Stuart - In 2012, Lohan starred in a beauty campaign for Jill Stuart cosmetics.
What engagements has Lindsay Lohan had?
Lindsay was engaged to a Russian businessman, Egor Tarabasov, from the year 2016 to 2017. In November 2021, she announced her relationship with Bader Shammas, who is a financier. She announced it on Instagram and later said that he had popped the question, and she said, "Yes."
What podcasts and web series has Lindsay Lohan appeared in?
Lindsay Lohan has her own podcast on Apple Podcasts called The Lohdown with Lindsay Lohan. Other than that, In the year 2022, she also served as the narrator for an Amazon Prime Video reality dating show called Lovestruck High.
What is Lindsay Lohan's endorsements and endorsements game?
Lohan has had many endorsement deals in her career. Some of them include being the face of Dooney and Bourke, Proactiv, Fornarina, and Esurance. On top of this, she also released her own smartphone game in the year 2014 called Price of Fame.
What projects has Lindsay Lohan appeared in?
Lindsay Lohan is an actress with a long list of successful appearances and roles. She starred in the film Mean Girls, which became a classic and is even loved to this day. It is said that she gained massive celebrity status after her successful role in The Parent Trap (1998). Other than these two, some other great projects she has appeared in include– the MTV Beach Show called Lindsay Lohan's Beach Club and the Netflix film Falling for Christmas.
Takeaway
Lindsay Lohan has been working in Hollywood ever since she was a literal child, and even through all the ups and downs of her career, she showed us that it isn't over until you let it be over. We can clearly see this by how she has started to make a comeback, with her Netflix movie, Falling for Christmas, and another one on the cards.
Although she has definitely been one of the most controversial celebrities in Hollywood, her story still inspires us not to give up on our downfalls and to keep pushing forward.
If you're inspired by Lindsay's story and want to become a famous actor like her, we probably can't help you much. That's just not our specialty.
But if you want to build a brand that makes the world a better place? One that can create generational wealth that sets you and your family up for life? Well, that's where we can help!
In fact, we're on a mission to make one million millionaires by 2028. We'd sure love you to be one of them!
The first step for you is to find the business that's perfect for YOU to build. That's why we made this free video for you - watch it and find your million dollar idea.