The Weeknd is a Canadian singer, songwriter, and record producer. He has been making waves in the music industry for over a decade. He is one of the most successful musicians in the world and has earned a fortune throughout his career. And that's how his success has allowed him to amass an impressive fortune from various sources.
From chart-topping hits to sold-out tours, The Weeknd has established himself as a global superstar. But what about The Weeknd's net worth? Well, in this blog post, we'll explore The Weeknd's net worth and rise to fame and fortune - from humble beginnings to international stardom. We'll also explore some impressive strategies that have helped him become so successful and wealthy. 
Plus, find out how to build a million dollar brand in about a year with our FREE training.
| | |
| --- | --- |
| Full Name | Abel Makkonen Tesfaye |
| Drake's Net Worth | $300 million |
| Born (Date of Birth) | 16 Feb 1990 |
| Age | 33 years |
| Place of Birth | Toronto |
| Nationality | American, Canadian |
| Gender | Male |
| Sources of wealth | Singing, Songwriting, Record producer |
| Height | 5 ft 8 in (1.73 m) |
What is The Weeknd's net worth?
The Weeknd's net worth is an estimated $300 million. The Canadian singer, songwriter, and record producer has amassed his fortune through the success of his three studio albums, as well as various endorsement and partnership deals. In addition to his music career, The Weeknd has also appeared in films and television shows. That has helped to further boost his net worth.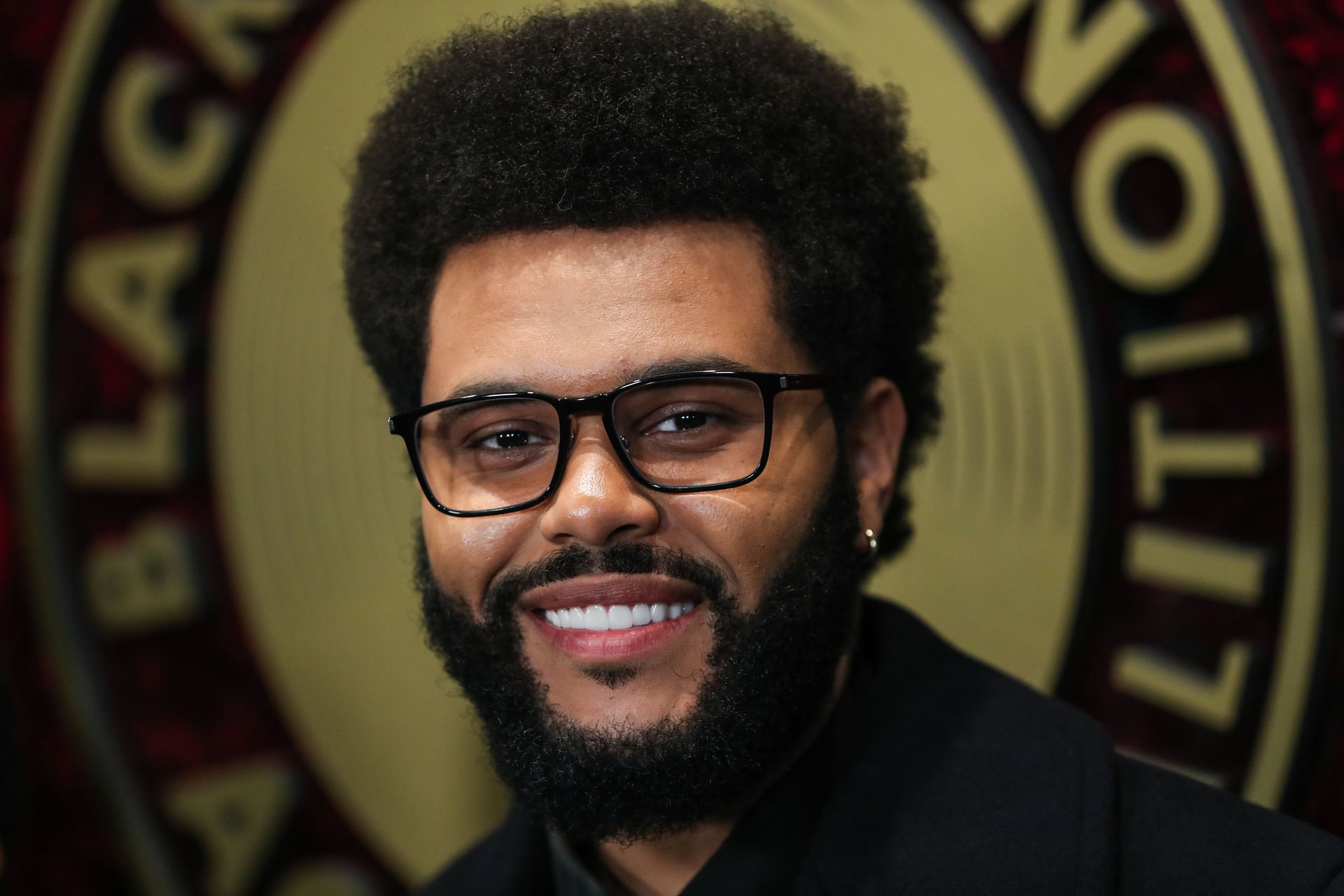 Who is The Weeknd?
The Weeknd is a Canadian singer, songwriter, and producer who has taken the music industry by storm. With his unique blend of R&B, hip-hop, and pop sounds, he has created an impressive body of work. He continues to captivate audiences around the world. 
The Weeknd first made waves with his 2011 mixtape House Of Balloons. It showcased a sound unlike anything else at the time. His debut studio album Kiss Land (2013) was released two years later. It featured production from heavyweights like Diplo and Mike Will Made. This project earned him critical acclaim for its dark themes about love lost or never found. It's something that would become synonymous with The Weeknd's style of music throughout his career.
After releasing Beauty Behind The Madness (2015) & Starboy (2016), The Weeknd was at #1 on Billboard 200 chart. He cemented himself as one of the modern day's most successful artists, thanks to his hit singles like "Can't Feel My Face", "Earned It" & "Starboy". The acclaim didn't just stop there. He went on to win three Grammy Awards, including Best Urban Contemporary Album for Starboy. Plus, he had several other awards nominations over the last few years.
Aside from being known for hit songs like Blinding Lights or Heartless, fans have come to recognize The Weeknd first for his musical accomplishments. But he has also used fashion statements during red carpet events or performances alike. He's created an iconic look all while staying true to himself without any compromises whatsoever!
What are the sources of The Weeknd's net worth?
Everyone knows that he is a great singer, but do you know how this superstar banks millions of dollars? Let's check it out in detail below.
Music Sales
Music sales are the bread and butter for any musician or artist looking to make it big in the industry. The Weeknd has sold millions upon millions of records worldwide. He's earned an estimated $75 million in music sales alone over the course of his career.
He continues to sell physical copies as well as digital downloads on iTunes, Amazon Music, and other platforms which all contribute to this impressive figure. The Weeknd has released several chart-topping albums over his career. They have sold millions of copies worldwide – making him an extremely successful recording artist financially as well as critically acclaimed by fans and critics alike.
Endorsements
Endorsements can be very lucrative for musicians like The Weeknd. They have established a strong brand name with their fan base around them. Some notable endorsements he's had include Puma sneakers, Apple Music streaming service, XO clothing line, and H&M fashion line, among others which all contribute significantly to his income stream through royalties paid out per deal.
It's estimated that he's made around $5 million through these deals so far, adding another important stream into his already hefty income portfolio.
Concerts
Concerts are by far the most lucrative source of The Weeknd's income. His wealth comes from live performances at concerts around the world – both solo tours as well as guest appearances with other top acts like Drake and Justin Bieber, who have been known to bring out huge crowds wherever they go! His 2019-2020 After Hours Tour grossed over $30 million and millions of fans around the world attended. 
Ticket sales make up a large portion of this figure, along with additional revenue generated from merchandise sold during performances, such as t-shirts or posters featuring artwork related to his albums or singles.
Merchandise
Well, it seems that The Weeknd will make money even from the ashes. I say this because he literally made around $5 million from his merch last year alone. This includes everything from official apparel like hoodies and hats to signature items like jewelry designed specifically for him by top fashion designers like Gucci and Versace.
Additionally, fans can purchase limited edition vinyl records featuring some of his greatest hits which have become highly sought-after collectibles worldwide due to their rarity factor, making them even more valuable than regular releases on CD or digital formats.
Songs in Movies
When a song by The Weeknd appears in a movie or TV show, he receives royalties every time the film or shows airs on any platform (theaters/TV/streaming). This can be quite lucrative; according to reports, his songs have earned him up to $1 million per placement! It's also worth noting that if you hear one of his songs playing during a commercial break while watching your favorite shows on TV - yep - he gets paid for those too!
Beauty deals
Here again, The Weeknd has been able to negotiate some very profitable arrangements with major companies like Puma and XO Beauty. Reports suggest that each deal nets him around $2 million, thanks to his massive social media following, which helps him a lot to promote their products even further.
Streaming
Recently, The Weeknd became the first ever artist to clock 100 million monthly listeners on Spotify, making him the most popular singer on the music streaming platform. Furthermore, when it comes to streaming revenue alone, The Weeknd earned an estimated $7 million in 2020, according to Forbes Magazine. This was largely due to his hit singles Blinding Lights and Heartless which were streamed over 1 billion times combined on various platforms.
Not just that, he also earns money through sales from physical copies (CDs) as well as digital downloads (iTunes). In fact, his latest album, After Hours, managed to sell over 2 million copies worldwide by October last year, which was a surprising number.
Merchandise Ventures
According to XO Merchandising – they've generated around $1 million since its launch back in 2017 when their first collection dropped at Coachella Valley Music & Arts Festival. This number is likely higher now, given how popular their clothing line continues to be amongst fans who want exclusive pieces inspired by some of his biggest hits like "Starboy" or "Can't Feel My Face".
Through partnerships with companies like Bravado (Universal Music Group), Redbubble & Fanjoy –The Weeknd offers exclusive merchandise products ranging from apparel items like t-shirts/hoodies/jackets to accessories including beanies/caps & even phone cases, amongst other things, which also contribute heavily towards his overall earnings every year.
Social Media
As one of the most popular musicians on social media platforms like Instagram and YouTube, it's no surprise that The Weeknd earns millions of dollars each year through these channels alone. He currently boasts over 41 million followers on Instagram and 8 billion views on YouTube – both of which generate significant amounts of revenue for him every month in advertising fees or sponsored content deals with brands looking to reach his audience base.
On top of that, he also makes money directly through fan donations via Patreon or Twitch subscriptions as well as merchandise sales from his website store, where fans can buy official t-shirts, hoodies, hats, etc. Together these sources add up to a whopping $1 million annually for the singer.
FAQs
What is The Weeknd's net worth?
The Weeknd's estimated net worth is $300 million. The majority of his wealth comes from his music career, with his albums and singles selling millions of copies worldwide. He has also banked good money through his tours and endorsements.
How did The Weeknd become one of music's wealthiest stars?
The Weeknd became one of music's wealthiest stars through the release of his critically acclaimed mixtapes. He first gained recognition after the release of his mixtapes House of Balloons, Thursday, and Echoes of Silence, which he released independently from 2011 to 2012.
The mixtapes were critically acclaimed and helped him earn a recording contract with Republic Records. Soon after, he released his debut studio album Kiss Land in 2013, which became an instant hit.
The Weeknd then released his second album, Beauty Behind the Madness, which was released in 2015, and it even became his first number-one album on the Billboard 200. Eventually, his third album, Starboy, was released in 2016, and that too became the number-one album on the Billboard 200, making him one of the only stars to have two consecutive albums rank on the number on Billboard charts.
What was The Weeknd's first mixtape?
The Weeknd's first mixtape was House of Balloons, which was released in 2011.
What are some of The Weeknd's most successful collaborations?
The Weeknd has collaborated with a number of other artists over the course of his career, resulting in some very successful songs. Some of his most popular collaborations include "Earned It" with Ariana Grande, "Love Me Harder" with Selena Gomez, and "Can't Feel My Face" with Wiz Khalifa.
How did The Weeknd gain popularity?
The Weeknd gained popularity through his unique blend of R&B, soul, and electronic music, as well as his mysterious public persona. Here are some of the key factors that contributed to his rise to fame:
Early online buzz: The Weeknd first gained attention in 2010 when he uploaded three songs to his anonymous YouTube account, which were later compiled into his debut mixtape House of Balloons. The mixtape quickly gained traction on social media and music blogs, with many praising his haunting vocals and atmospheric production.
Critically acclaimed mixtapes: The Weeknd followed up House of Balloons with two more critically acclaimed mixtapes, Thursday and Echoes of Silence, which further solidified his reputation as a rising R&B star.
Collaboration with Drake: In 2011, The Weeknd caught the attention of fellow Toronto native Drake, who praised his music on Twitter and invited him to collaborate on the song "Crew Love" for his album Take Care. The collaboration exposed The Weeknd to a wider audience and helped him gain credibility within the industry.
Major label debut: In 2012, The Weeknd signed to Republic Records and released his major label debut album Trilogy, which compiled his three mixtapes into a cohesive package. The album was a commercial success and peaked at number four on the Billboard 200 chart.
Hit singles: The Weeknd continued to gain momentum with hit singles like "Can't Feel My Face," "The Hills," and "Starboy," which showcased his versatility as a pop and R&B artist.
High-profile performances: The Weeknd has also gained attention for his high-profile performances, including his halftime show at Super Bowl LV in 2021, which was widely praised for its elaborate production and guest appearances.
What awards has The Weeknd won?
The Weeknd has won 4 Grammy Awards, 6 American Music Awards, 20 Billboard Music Awards, 2 MTV Video Music Awards, and 17 Juno Awards. He has also been nominated for an Academy Award, three Golden Globe Awards, and Primetime Awards as well. Well, these were just the most popular ones out there. There are still much more awards in The Weeknd's arsenal.
What endorsements does The Weeknd have?
The Weeknd has endorsements with a number of brands, including Puma, Beats by Dre, and Apple Music. He has also been a spokesperson for H&M and also been the face of campaigns for major fashion houses, Givenchy and Balmain.
What merchandise does The Weeknd sell?
The Weeknd's merchandise includes clothing, shoes, and accessories. His clothing line, XO, includes jackets, hoodies, and t-shirts. Not just that, his partnership with Puma includes a line of shoes, apparel, and accessories.
What venues have The Weeknd performed at?
The Weeknd is a global icon, and we can clearly see that through the venues where he has performed to date. Some of the most iconic of them include Madison Square Garden, the Staples Center, Molson Canadian Amphitheatre, the Rogers Centre, and the Air Canada Centre. He has also been a headliner for big music festivals like Lollapalooza, Coachella, and Bonnaroo.
Takeaway
The Weeknd has positioned himself not only as a great singer but also as a terrific entrepreneur who knows exactly how to market himself. With multiple brands under his belt, the singer owns multi-million dollar companies that have been making him tons of money over the years.
If you want to follow in his footsteps and become a world-famous singer, we wish you all the best! We probably can't help you get there, but we'll root for you all the way.
But if you want to build a business that has the potential to create generational wealth while also making the world a better place, that's where we come in.
We're on a mission to make one million millionaires by 2028, and we'd love you to be one of them!
The first step is requesting your FREE million dollar business playbook. Let's get started making you a millionaire!