He Just Became the Richest Man in the World (For Now)
Jeff Bezos and Bill Gates have a new competitor for the richest person in the world – Bernard Arnault, who is the owner of LVMH. This billionaire oversees a huge empire of luxury brands, including Louis Vuitton. Bernard Arnault's net worth has been steadily growing in the last few years. Currently, he is only a couple billion away from being on top. 
In less than a year, Bernard Arnault's net worth has nearly doubled. As of July 2021, his reported net worth reached $195.9 billion. He has become history's third centibillionaire, and is the richest person in the fashion industry. This article shares how he has made his money and what he spends his billions on. 
Bernard Arnault's Net Worth (Estimated): $195.9 Billion
How Did Bernard Arnault Make His Money? 
Arnault acts as the chairman for LVMH Moet Hennessy Louis Vuitton, the world's largest maker of luxury goods (he controls about half the company). Their revenue last year was $55.3 billion. Their brands include Christian Dior, Louis Vuitton, TAG Heuer watches, Dom Perignon champagne, Sephora, FENTY, and many more.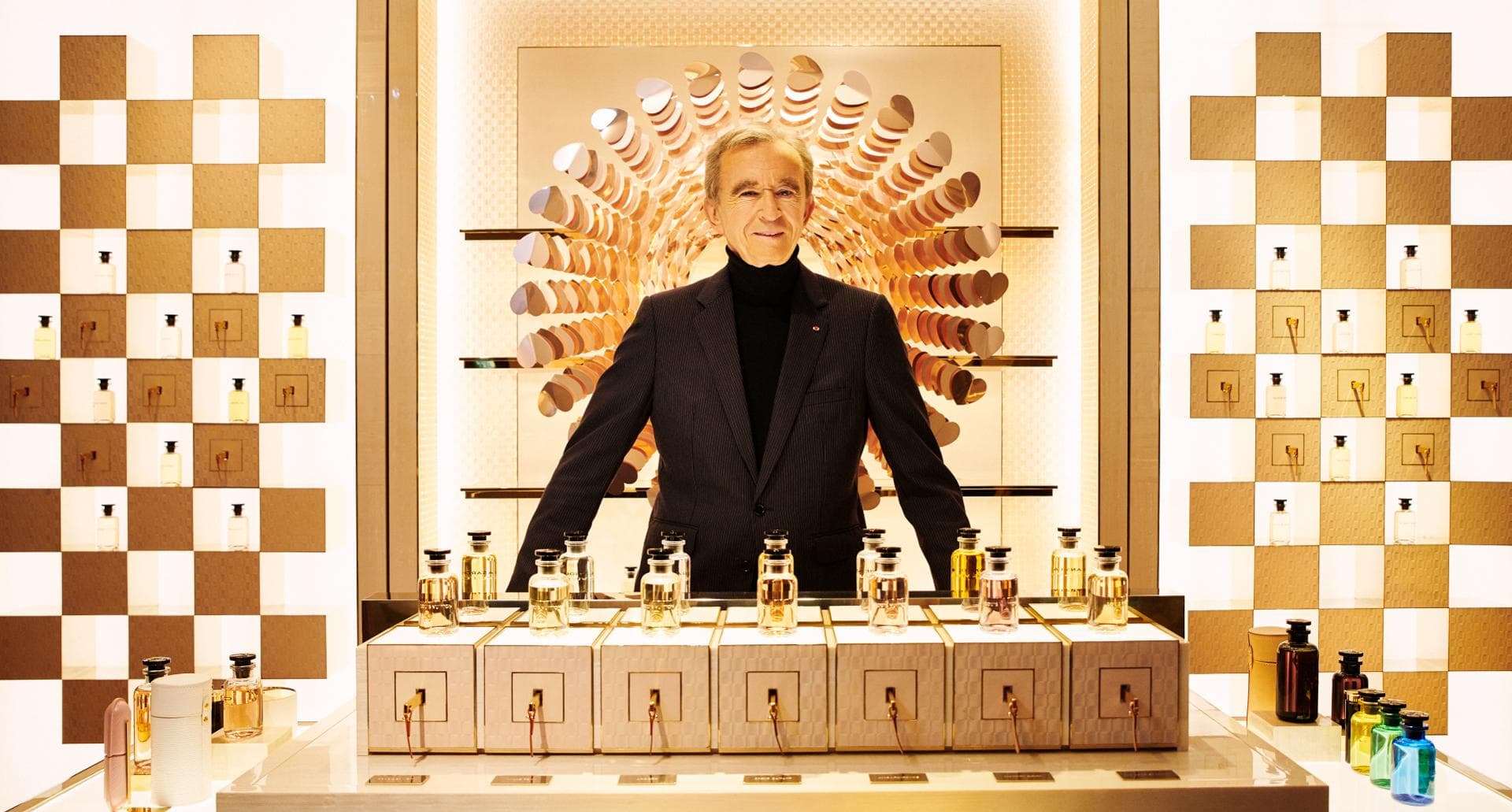 What Brands Does Bernard Arnault Own?
LVMH's 70+ luxury brands fall into a variety of industries – including fashion, cosmetics, wines, cosmetics, jewelry, and others. The largest percentage of Bernard Arnault's net worth is derived from his 97.4% stake in Christian Dior, a luxury fashion brand for men and women. He also has an 8.6% stake in Hermes and 1.9% of Carrefour. In 2018, LVMH had around $53 billion of revenue. 
In 2021, things are looking even more dapper for the LVMH brand, according to Reuters.

Its fashion and leather goods division, which houses Vuitton, Dior and brands such as Fendi and which accounts for nearly half of LVMH's revenues, recorded a 52% increase in like-for-like sales, again way above analysts forecasts of a 27% rise.

The watches and jewellery division's sales rose by 138% when including acquisitions and exchange rate effects, benefiting from the consolidation of Tiffany.

LVMH completed the $15.8 billion acquisition in early January after a legal battle.
What Is Louis Vuitton Company Worth?
The company is worth slightly over $40 billion. It grew 15% over the last year and is now the world's most valuable luxury brand. 
How Much of LVMH Does Arnault Own?
Since Christian Dior owns 40.9% of LVMH's shares, this number is close to the amount that Arnault owns. 
Arnault's Early Career 
Born in 1949, Bernard Arnault has had a few years to build his net worth. His first experience with luxury goods began in 1984 when he took over the textile group that owned Christian Dior. He sold the company's other businesses and bought a controlling stake in LVMH, so he became the CEO. They soon acquired Fendi, TAG Heuer, and Bulgari. 
Before entering the luxury market, he worked at his family's construction business as an engineer after graduating from Ecole Polytechnique in Paris. Bernard made a good chunk of cash from transforming it into a real estate empire. 
Where Arnault's Money Goes
This is where it gets exciting! Someone with only $1 billion can pretty much buy anything, let alone $100 billion. He's beyond financial freedom. Let's check out Bernard's portfolio of purchases. 
Bernard Arnault House Collection
With as much money as he has, it's no surprise he has more homes than he can live in. Even so, his portfolio is surprisingly smaller than we expected. 
Bordeaux, France: Bernard Arnault's house that he lives at full-time is a lovely 150-year-old castle surrounded by vineyards located in northwest Saint-Emilion in Bordeaux, France. It has belonged to the Arnault family since 1998. 
French Alps: Although Cheval Blanc is a glamorous hotel, it was created by Bernard Arnault for his business and personal travel. It's located in the largest ski area in the world. With 34 luxury rooms, a private Chalet, and a penthouse, each room has a balcony with mountain views. The hotel also offers a large heated pool with sauna, jacuzzi, and a fitness center. 
Paris, France: Bernard Arnault also owns an elegant, massive villa on the island of St. Tropez that he uses for vacations.
Beverly Hills, California: While most of his homes are in France, the billionaire also has five different homes in Beverly Hills. They're worth $125 million in total. Two of them are located right next to each other in the Trousdale Estates neighborhood, while another two are also right next to each other in the Bird Streets neighborhood. With each of these locations, he reportedly plans to tear down the luxury homes and create one gigantic home to cover both lots. 
His Beverly Hills homes went under the radar for a long time since they were purchased by an LLC that masked his identity. What other homes is he hiding?
Superyacht
Bernard Arnault's yacht isn't any old boat; it's a superyacht! It's valued at $150 million and is incredible. It carries 36 passengers with a glass-bottom pool on the main deck, an outdoor cinema, a jacuzzi, 
Private Jet
It's no surprise that Arnault owns a private jet. His Dassault Falcon 7X jet with OY-FWO registration. It's green has a listing price of $40 million. Before this, he owned a Bombardier Global Express with registration F-GVML.
Private Island
When you're a billionaire, why not buy a private island while you're at it? Arnault reportedly owns the 133-acre Indigo Island in the Bahamas, purchased for $35 million. 
Art
Bernard Arnault's net worth has encountered a slight ding from his world-class collection of art. He owns works by Picasso, Henry Moore, Andy Warhol, and Yves Klein. In relation, he launched LVMH's international competition for students from fine-arts schools in 2013. Every year, the winner receives a $340,000+ grant to support the creation of their own label, plus a year of mentorship. Previously, Bernard also owned an art auction house named Phillips de Pury & Company.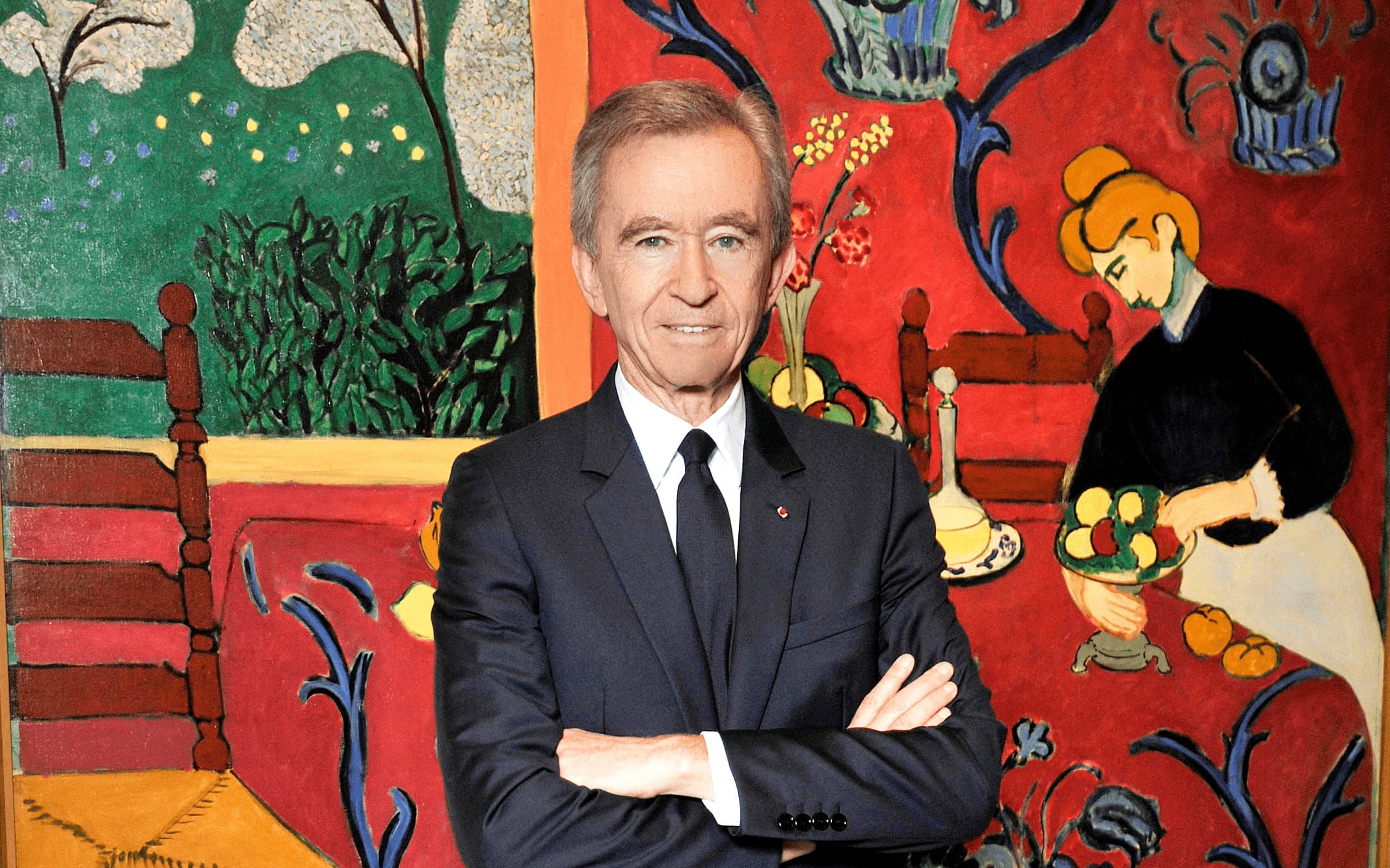 Other Investments Adding to Bernard Arnault's Net Worth
It's no secret that Bernard Arnault likes to invest his money. He has invested in a variety of startups, including Netflix, Boo.com, Libertysurf, and Zebank. Years ago, he entered the yacht business with his purchases of Princess Yachts for over $200 million and Royal van Lent for a similar price. 
Donations
Surprisingly, Bernard Arnault's donations list isn't very large, considering how much money he has. The only notable contributions we found were when his family pledged $234 million to help repair the Notre-Dame cathedral after the 2019 fire. In addition, he donated $11 million to help fight Amazon wildfires. Even so, his smaller donations may not receive as much publicity as these larger ones. 
Personal Life + Family
Bernard Arnault has a fairly large family. He has been married twice and has five children (four sons and one daughter). Two of his children were with his former wife, and three are with his current. They are adults, and nearly all of them work in executive roles either at LVMH or brands owned by the company. Bernard Arnault's wife is a French-Canadian concert pianist named Hélène Mercier. They have been married since 1991. 
Bernard Arnault Children
Bernard Arnault's children are pretty successful themselves. Nearly all of them are working in luxury goods companies. They definitely followed in their father's footsteps. 
Delphine Arnault (April 4, 1975) is Bernard's oldest child. She is currently the director and executive vice president of Louis Vuitton. Delphine sits on the Board of Directors for LVMH. She is from Bernard's first marriage, along with Antoine Arnault.
Antoine Arnault (June 4, 1977) is the CEO of Berluti and the chairman of Loro Piana, both LVMH brands. He has invested over $100 million into developing Berluti. Over three years, the brand has grown expanded its revenue an additional $85 million per year. 
Alexandre Arnault (May 5, 1992) has become one of fashion's youngest chief executives. He is the president and CEO of Rimowa, a luxury luggage brand that is an LVMH brand. At such a young age, he still has quite some time to show off his skills and boost his net worth. 
Frédéric Arnault (1995) is the strategy and digital director of TAG Heuer, another LVMH brand, of course. He's only in his early 20's, so we can expect him to become a CEO anytime soon. 
Finally, Bernard Arnault's son Jean Arnault is the youngest and has yet to break into the industry as he is only 20 years old. However, it won't be a surprise if he begins working for one of his father's brands. 
Bernard Arnault Quotes
"Luxury goods are the only area in which it is possible to make luxury margins."
"I see myself as an ambassador of French heritage and French culture. What we create is emblematic. It's linked to Versailles, to Marie Antoinette."
"What we do in our group is the opposite of the bad effects of globalization. We produce in Italy and in France, and we sell to China when usually it's the opposite."
The Bottom Line about Bernard Arnault's Net Worth
This luxury market business leader has reached incredible levels of success. Bernard Arnault's net worth has shot up over the past year, and it will likely continue to rise. We won't be surprised if this luxury goods king becomes the wealthiest person in the world (or one of his successful kids does). 
So, one reason so many people love reading articles like this - about people who've created massive, life-altering wealth - is curiosity. We want to know how'd they get so rich? What are they doing with all that money? What's their life like? It's almost as if there's this invisible wall we want to peer over, to see how "the other half" lives. It's as if the ultra-rich have secrets most people don't know. They DO! And that's good news, actually, because we can all learn them. Once we begin learning what they know, we can do what they did, and create the kind of life most people only wish they had. If you've got that same curiosity about "the other half" you should check this out.