Ice Cube is one of the most famous and successful rappers in history. His music and acting careers have both been incredibly successful, but his net worth is even more impressive. This guide will tell you everything you need to know about Ice Cube's net worth, plus his awards, music, films, and endorsements.
Once this rapper started rhyming, he couldn't stop. Today, Ice Cube is one of the most recognized names in the music industry, with millions of albums sold. He brought gangsta rap to the mainstream with his brutal lyrics. Oh, and he's also a mega-popular movie star with several cult classic films under his belt.
Ice Cube's story shows how hard work, networking, and trusting your instinct can turn your passion into a 9-figure empire.
Plus, find out how we can help YOU build a million dollar brand... absolutely FREE.
| | |
| --- | --- |
| Ice Cube Net Worth: | $160 million |
| Real Name: | O'Shea Jackson, Sr. |
| Age: | 53 |
| Date of Birth: | June 15, 1969 |
| Birthplace: | Los Angeles, California, USA |
| Gender: | Male |
| Height: | 5 ft 8 in (1.73 m) |
| Source of Wealth: | Rapper, Music Producer, and Actor |
| Best-Known For: | Gangsta Rap and the Friday Franchise |
What is Ice Cube's net worth?
Fans ponder, "What is the net worth of Ice Cube?" As of 2023, Ice Cube's net worth is $160 million, making him one of the wealthiest rappers alive.
These rappers have a higher net worth:
Kanye West's net worth: $6.6 billion
Jay-Z's net worth: $1.3 billion
Sean Combs' net worth: $900 million
Dr. Dre's net worth: $780 million
Eminem's net worth: $230 million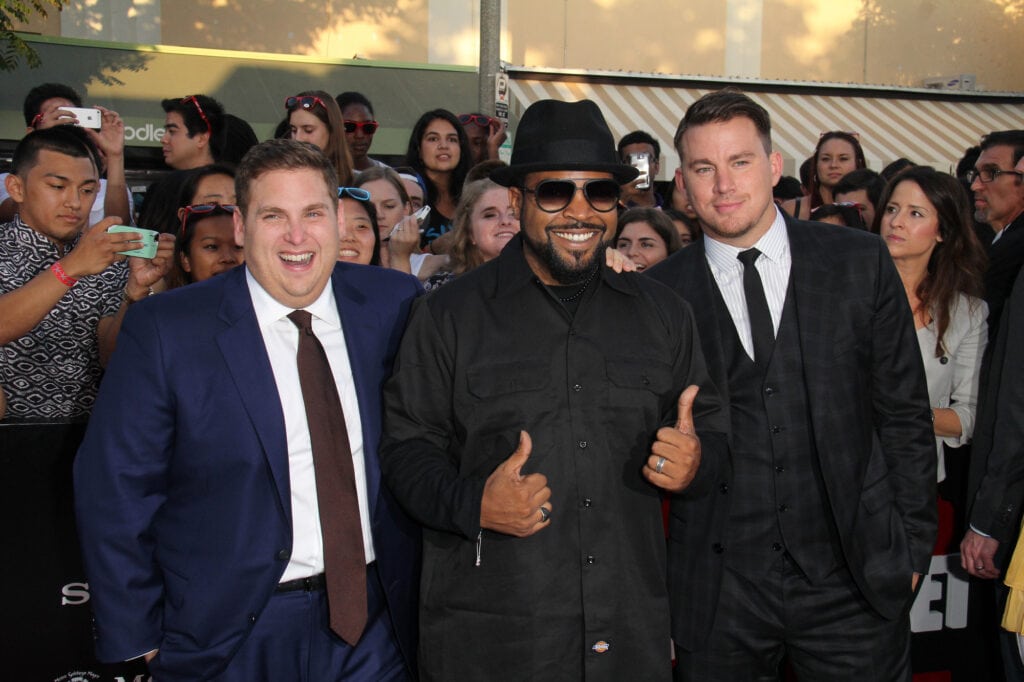 This Walmart heiress was born into a family of wealth.
Who is Ice Cube?
Ice Cube was born on June 15, 1969, in the Baldwin Hills neighborhood of South Los Angeles. But that's not the name on his birth certificate. Ice Cube's real name is O'Shea Jackson, Sr. His father, Hosea Jackson, was a machinist and groundskeeper. His mother, Doris, worked as a hospital clerk and custodian. He grew up alongside his older brother and half-sister. Tragically, his sister passed away when Ice Cube was 12.
Ice Cube became fascinated by the hip-hop scene in high school. Dared by his friend, he wrote his first rap during a 9th-grade typewriting class. He loved it. "The hardest period for a writer is the period in-between writing. That's when you can go crazy if you don't allow the creative juices to flow."
And what about his stage name? He got that from his older brother. Ice Cube's brother threatened to lock him in the freezer until he turned into (you guessed it!) an ice cube. And it stuck.
The Rise of a Gangsta Rap Legend
Ice Cube started performing with C.I.A. while he was still in high school. The teenager collaborated with Dr. Dre, releasing his first single, "My Posse."
When Ice Cube was 16, he sold Eazy-E his lyrics for "Boyz-n-the-Hood." Eazy-E went on to record the song with N.W.A. That single put gangsta rap on the radar.
Ice Cube became a full-time member of N.W.A. He wrote all the rhymes for the group's debut album, Straight Outta Compton. The album has sold over 3.3 million copies, making it the most successful N.W.A. album.
Despite the album's instant and long-standing success, Ice Cube earned very little. A lowball paycheck was the driving reason the rapper left N.W.A. in 1987.
Ice Cube revealed in a Spin interview, "When you contribute to the sale of three million albums, you expect more than $32,000. Jerry Heller [N.W.A manager] lives in a half-million-dollar house in West Lake, and I'm still living at home with my mother."
Still inspired to write rhymes, Ice Cube pursued solo projects. And he also dabbled in acting, landing leading roles in several blockbuster hits.
How did Ice Cube make his money?
Ice Cube's rhymes are only partly responsible for his wealth. Here's a breakdown of how the gangsta rapper became so rich:
1. Music Career
Although Ice Cube only made $32,00 for Straight Outta Compton, music sales account for much of his 9-figure net worth. He released 28 albums and 10 studio albums after leaving N.W.A. Murder Was The Case and Friday added $2 million to the rapper's bank account.
2. Business Ventures
In 2017, Ice Cube became a co-founder of Big3. The company is a 3-on-3, half-court basketball league that features games played by the best players. Big3 has a valuation of $1.5 billion.
3. Films
Ice Cube's movies perform well at the box office. The Friday franchise grossed over $120 million. Per his IMDb page, Ice Cube wrote all three films: Friday, Next Friday, and Friday After Next.
Other movie highlights include:
Boyz n the Hood
Anaconda
Barbershop
21 Jump Street
Ride Along
4. Rapping
Ice Cube loves rapping for his fans. His going rate is $150,000-$299,000 per performance.
Here's an entrepreneur who wants to send you to space!
5. Music Production
Producing music for other up-and-coming rappers is one of Ice Cube's passions. He has worked with Da Lench Mob, Kausion, Mack 10, and Mr. Short Khop, earning residual commissions from their album sales.
6. Clothing Business
In 2017, the rapper launched a clothing line to raise money for the non-profit, Autism Speaks. He didn't earn money from the deal, but he did raise awareness for a worthy cause.
7. Endorsements
Ice Cube has several brand deals. His most lucrative endorsements include:
Coors Light
Solo by Cube
St. Ides Malt Liquor
His contract with Coors Light has been in place since 2011, earning millions for the rapper.
8. Property Holdings
Ice Cube lives with his wife in a Marina Del Rey mansion. He paid $7.25 million for it in 2016.
This entrepreneur had to recover after losing his 800 property portfolio.
FAQ
You sing his rhymes and quote his movies, but do you know everything about Ice Cube? Find out below!
How much money does Ice Cube have?
Ice Cube's annual salary is an estimated $15 million.
What is Ice Cube's net worth?
The net worth of Ice Cube is an impressive $160 million. Here's how it compares to previous years:
Ice Cube net worth 2022: $150 million
Ice Cube net worth 2021: $130 million
Ice Cube net worth 2020: $118 million
Meet one of the richest entrepreneurs, according to Forbes.
What rap group is Ice Cube associated with?
Ice Cube became a household name as a member of N.W.A. The group's explicit lyrics garnered worldwide attention.
What rap songs has Ice Cube released?
Ice Cube has an impressive discography comprising 27 singles, 10 studio albums, 12 soundtracks, and 6 compilations.
His most notable rap songs are:
"It Was A Good Day"
"No Vaseline"
"You Can Do It"
"Friday"
"Endangered Species"
What is Ice Cube's most popular rap song?
"It Was A Good Day" is Ice Cube's most well-known song. He released the single on The Predator, his third solo album. It sold over 193,000 copies in the first week and hit number one on the Billboard 200. To date, The Predator has sold over 5 million copies
How did Ice Cube become famous?
Ice Cube first rose to fame as a member of N.W.A. But after leaving the group, he continued to grow in popularity thanks to record-selling solo albums and hit movies.
Does Ice Cube have a website?
Yes! Fans can learn about Ice Cube's upcoming projects, albums, and tours right here.
What acting roles has Ice Cube played?
Ice Cube has acted in—and written—many popular movies. Highlights include:
The High Note (2020)
Ride Along (2014)
21 Jump Street (2012)
Friday After Next (2002)
Barbershop (2002)
Next Friday (2000)
The Players Club (1998)
Anaconda (1997)
Friday (1995)
Boyz n the Hood (1991)
What awards has Ice Cube won?
Ice Cube's accolades for both music and acting include:
BET Honors Award for Excellence in Entertainment (2014)
NAACP Image Award for Outstanding Supporting Actor in a Comedy Series (2011)
BET "I Am Hip-Hop Icon" Award (2009)
Soul Train Music Award for Career Achievement (2005)
MECCA Movie Award for Acting (2002)
Blockbuster Entertainment Award Favorite Action Team (2000)
He also earned a Hollywood Walk of Fame star in 2017.
Does Ice Cube have a mansion?
Ice Cube bought a Marina Del Rey, CA mansion for $7.5 million in 2016. Cool fact: He purchased the property from Jean-Claude Van Damme.
Ice Cube lives in the home with his wife of almost 30 years, Kimberly Woodruff, and their five children. His oldest, O'Shea Jackson Jr., is also an aspiring rapper.
Ice Cube's son's net worth is $3 million.
Takeaway
Ice Cube's unapologetic rhymes propelled this rapper to the top. But he also didn't let those above him exploit his talents. His choice to exit a bad management situation and go solo helped this rapper-turned-actor grow his $160 million net worth.
If you want to write catchy raps or land movie roles, there are better platforms than Capitlism.com. We don't specialize in that. But we can help you build a meaningful 7-figure business from the ground up.
Join us on our mission to make one million millionaires by 2028. We provide entrepreneurs with the tools and resources to transform their vision into a money-making reality. Ready to take the first step? Grab this FREE million dollar brand playbook to get started.