As one of the most-loved investors on ABC's TV Series Shark Tank, Lori Greiner has a personality almost as big as her list of more than 1000 inventions and 120 product patents. Today, she is known as the driven and passionate Shark Tank investor who cares about helping other entrepreneurs succeed. But Lori first rose to fame as "The Queen of QVC" when she hosted a show on the network called Clever & Unique Creations by Lori Greiner, airing from 2000 to 2018.
Greiner's consumer product inventions include travel, household, electronics, and cosmetic and jewelry organization. Lori has firmly established herself as one of the world's most prolific inventors of retail products. She is known for her strong business acumen, sharp instincts, and eye for products consumers will love. As a result, she has built a multi-million-dollar empire.
So what is Lori Greiner's net worth today, and how does she use her wealth and influence to help other entrepreneurs? Let's dive in to explore Lori's career, inventions, investments, philanthropy, and more.
Plus, find out how we can coach you to your first million FREE.
| | |
| --- | --- |
| Lori Greiner Net Worth | $150 million |
| Age: | 53 |
| Date of Birth: | December 9, 1969 |
| Birthplace: | Chicago, IL |
| Gender: | Female |
| Height: | 5 ft 4 in (1.63 m) |
| Source of Wealth: | Television personality, inventor, entrepreneur, and author |
| Best-Known For: | "The Queen of QVC" and the host of the QVC show Clever & Unique Creations by Lori Greiner (2000-2108) |
Who is Lori Greiner?
Lori Greiner is an American television personality, entrepreneur, inventor, and author. She was born on December 9, 1969, in Chicago, Illinois, and grew up in a middle-class family. She received a degree in communications from Loyola University Chicago. During college, Lori worked for The Chicago Tribune and aspired to be a playwright. She sold jewelry and held a few different jobs before launching her own business, For Your Ease Only, in 1996.
Later that same year, she hit it big as an inventor, creating and patenting a plastic earring organizer. Retailer JCPenney picked up the handy product for their holiday season, and it was a hot item. In fact, Lori's organizer sales brought in enough money to pay off her $300,000 loan in only 18 months. And that was just the beginning.
Greiner's business racked up more than $10 million in sales within a few years. By 2010, Greiner's For Your Ease Only brand achieved a whopping $350 million in sales.
HSN and Bed, Bath & Beyond
Following her success with the jewelry organizer, Greiner made lucrative deals with Home Shopping Network (HSN) and Bed, Bath & Beyond. She earned her title as "Queen of QVC" when she started with the network in 2000. She was so well-loved by the viewers that QVC gave her a show, Clever & Unique Creations, which aired from 2000 to 2018, making it one of the network's longest-running shows.
The show solidified Lori as a trusted inventor and entrepreneur. Greiner's personal motto is, "If you are interested, you'll do what's convenient. If you're committed, you'll do whatever it takes." And she's lived out her motto well throughout her nearly 30-year career.
Inventing over 1000 products and holding more than 120 product patents, Greiner has proven she has expertise in product creation, marketing, and sales. As a result, she landed a role as a shark investor on ABC's Shark Tank in 2012 and remains on the series today.
The Scrub Daddy Deal
In 2014, Lori's investment in Scrub Daddy, a company producing a household sponge, became one of the biggest successes of the Shark Tank series. Since then, Scrub Daddy has had more than $400 million in sales.
Learn more about the Scrub Daddy invention and path to success here on our blog.
Lori's other lucrative investments on Shark Tank include the Squatty Potty, Paint Brush Cover, Drop-Stop, FiberFix, and Simply Fit Board. On the show, Lori is known as the "warm-blooded shark" for her compassion and empathy when meeting new Shark Tank contestants. Still, she has a 90% success rate for the products she chooses to invest in, making her one of the most profitable Shark Tank investors.
In 2014, Lori authored a best-selling book on entrepreneurship, Invent It, Sell It, Bank It! Make Your Million-Dollar Idea Into a Reality.
While Greiner claims she never aspired to be a serial inventor or investor, her success with the jewelry organizer in the mid-90s set her firmly on the path. She has received numerous accolades for her entrepreneurship and business success, including being named one of the "Most Powerful Women in Business'' by Forbes in 2015. In addition, Lori was inducted into the National Retail Federation's Hall of Fame in 2018. She is a true inspiration to aspiring entrepreneurs and continues to be a force to be reckoned with in the business world.
What Is Lori Greiner's Net Worth?
So what is the net worth of Lori Greiner? As of 2023, she has accumulated an estimated net worth of $150 million.
What are the sources of Lori Greiner's wealth?
Lori Greiner has a long list of income sources contributing to her multi-million-dollar net worth, including:
Investments
Inventions
Shark Tank salary
Television guest appearances
Speaking engagements
Retail products
Best-selling book
Production company, Good Place Entertainment
While the bulk of Lori's net worth comes from her Shark Tank role and retail product inventions and sales through her business For Your Ease Only, she clearly knows diversifying income is crucial to longevity and success. High-profile companies like IBM, PayPal, Chase, and Adobe have paid Greiner to speak to their employees and audiences to share her experiences and business advice.
From Shark Tank investments and book sales to retail product revenue, it seems highly likely that Lori Greiner's net worth will increase even more in the years to come.
FAQs
How much is Lori Greiner's net worth?
According to various sources, Lori Greiner's net worth is $150 million.
How did Lori Greiner become successful?
Lori achieved her first entrepreneurial success in 1996 when she started her company For Your Ease Only and launched her first invention, a plastic jewelry organizer. Popular retailer J.C. Penney picked up the product for their holiday line, and it was a tremendous hit with consumers. She then started selling her products on cable TV through HSN, where she sold 2,500 jewelry organizers in two minutes.
Within three years from its inception, For Your Ease Only products brought in more than $10 million in sales for Greiner, catapulting her to millionaire status.
What investments has Lori Greiner made?
Lori has invested in several brands through her role on ABC's TV series Shark Tank. Some of Greiner's most successful investments include:
Scrub Daddy
Squatty Potty
EverlyWell
The Pizza Cupcake
AIRA
Spark Charge
Bug Bite Thing Suction Tool
Boarderie
Fish Fixe
What is Lori Greiner's strategy for success?
Lori Greiner brings extensive experience to business start-ups and entrepreneurs hoping to make it big so they can grow their net worth.
Here are some of the quotes she has shared about her strategy for success:
"There are always things that are needed. There are always ways to do things better. It's all about offering solutions."
"A brilliant idea doesn't guarantee a successful invention. Real magic comes from a brilliant idea combined with willpower, tenacity, and a willingness to make mistakes."
"In business, it is most often all about getting your foot in the door, and once you do, everything opens up, and things start to naturally progress into bigger and more opportunities."
"When I had challenges, it taught me to be more on top of it for the future. Things go wrong all the time when you are running your own business, but it's how you perceive it and deal with it that matters."
"I was fearless, I knew I would make it work, and that's the difference between successful entrepreneurs and people that don't get somewhere – it's that tenacity and drive."
How does Lori Greiner use her wealth and influence to help other entrepreneurs?
Lori Greiner is well-known for supporting and advocating for women- and minority-owned businesses. Through her work on Shark Tank and as a business mentor, she identifies entrepreneurs with innovative business ideas and nurtures them through the process to achieve big paydays. Lori tries to put herself in the buyers' shoes and can instantly tell if a product will be a "hero or a zero."
Because she has shattered many glass ceilings throughout her career, Greiner feels passionate about helping other women and minorities to do the same. She invests in the companies she believes in and helps turn people's dreams into reality. Lori does this by being involved in all aspects of the business, lending her expertise in product concept, creation, legal and patent processes, and marketing.
How does Lori Greiner give back through philanthropy?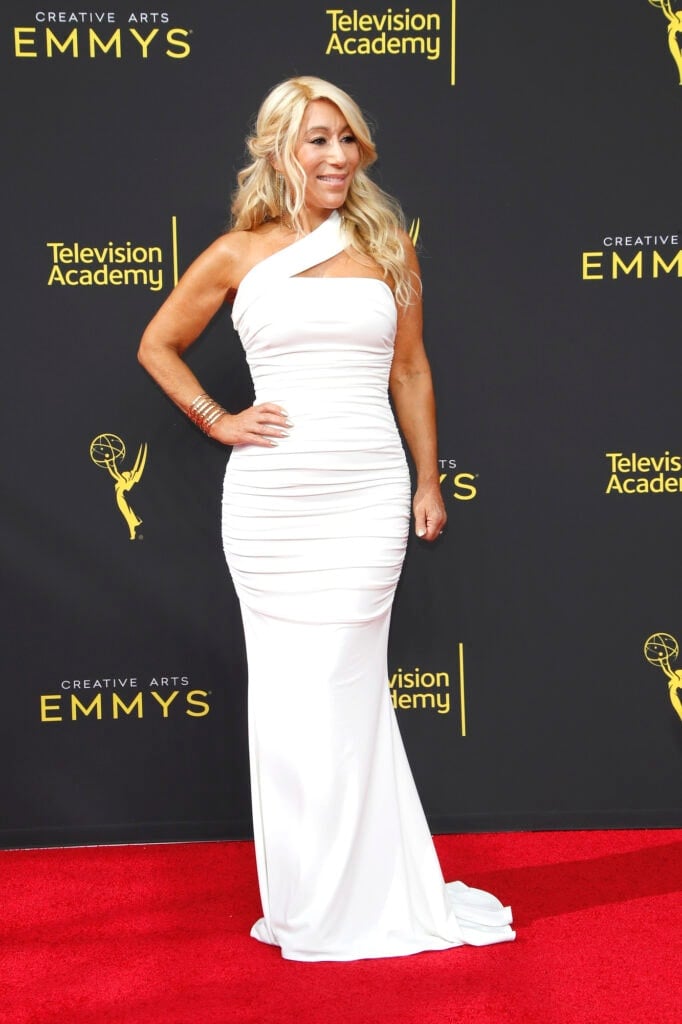 Lori Greiner believes in sharing her wealth and giving back through meaningful philanthropy efforts. She has said, "If you are lucky enough to be successful, you have a responsibility to give back."
Greiner donates a substantial amount of her profits annually to various charities, including college scholarships for underprivileged women, youth programs, and initiatives supporting healthcare workers and first responders.
Takeaway
Lori Greiner's net worth and career are the goals many new entrepreneurs strive to achieve. She started with one unique product idea and grew her brand to multi-millions. As a result, she has accumulated life-changing wealth that gives her the freedom to invest in other entrepreneurs and make the world a better place.
If Lori's career and path to riches inspire you, it's absolutely possible to get on the same path. You only need direction, support, and a business blueprint for success.
That's exactly how Capitalism.com can help!
We're on a mission to make one million new millionaires by 2028. And we'd love YOU to become one of them.
To help you reach your goals, we've created a FREE course that will give you the steps to build a brand and grow your net worth to new heights. Join us, and let's get started!